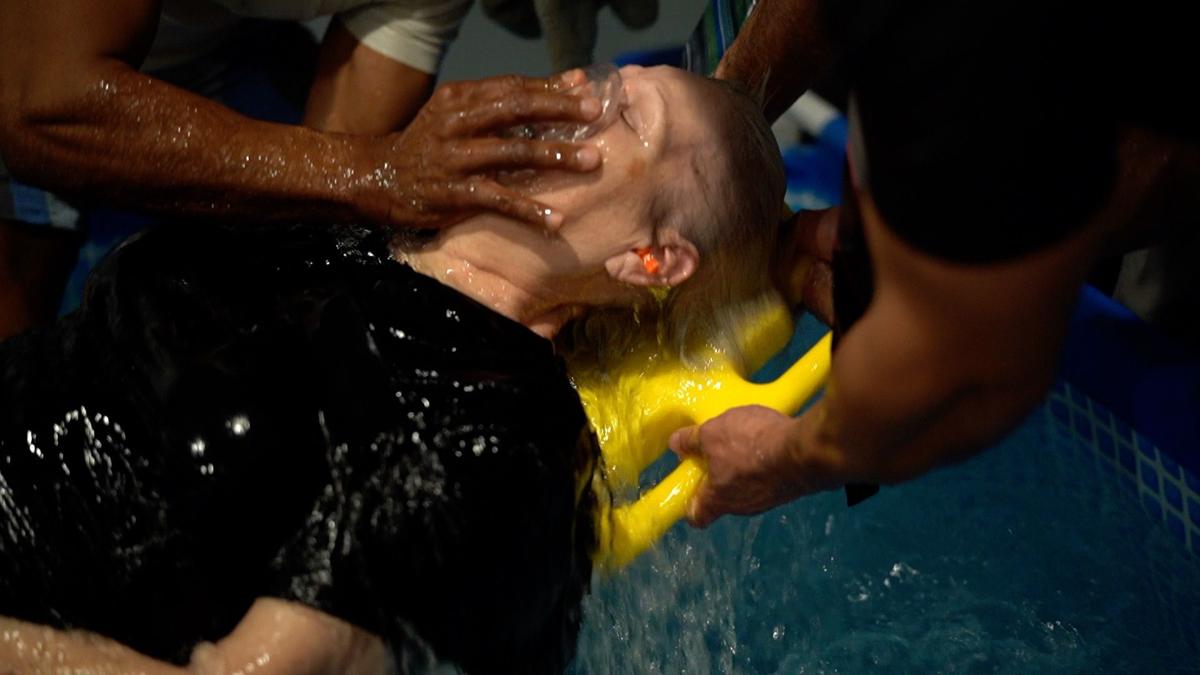 The dining room in the Lindsay Gardens Nursing and Rehabilitation facility was abuzz with joyous chatter. The usual tables had been replaced by neat rows of chairs and in the corner a peculiar sight for a dining room — a small portable pool. Pam Thompson was wheeled into the room in her hospital bed. It would be an unforgettable day for her — the day of her baptism as one of Jehovah's Witnesses.
For Jehovah's Witnesses, baptism is a public display that one has dedicated him or herself to serve God, and the baptism act must involve complete immersion in water. This would present unique challenges in the case of Pam Thompson.
Pam, 65, has amyotrophic lateral sclerosis (ALS), also known as Lou Gehrig's disease, which impairs the brain's ability to control muscle movement. Thus Pam is unable to eat, move, or speak without assistance. But ALS does not affect her intelligence or memory. She is completely sound in mind when she says: "I'm happier than I've been in years."
A baffling statement considering her circumstances. Pam relies on a feeding tube to eat. She must rest in the same upright position 24 hours a day. She communicates through a speech-generating device called Tobii, which tracks her eye movement across a virtual keyboard. Her 89-year-old mother, Velma Thompson, is in the early stages of dementia and resides in the same nursing facility.
Pam explains, "I have a purpose and I always wondered what that was. Now I know — to tell others about the truth the best I can."
Living with purpose is a relatively new concept for Pam. It all started with one fateful discussion about tithing.
Pam's older brother Larry and his wife Linda had become Jehovah's Witnesses in the early 80s, but it was not until 2014 when Pam and Velma started to show any interest in their faith. At the time, Pam was living with her mother to be her caretaker. Larry and Linda came for a visit when Velma asked them what the Bible says about tithing. Intrigued by their response, Pam and Velma later began to study the Bible with Linda.
Then the holidays came. Pam understood the Scriptural reasons for which Jehovah's Witnesses do not celebrate Christmas, but she knew her son would object if she did not join his family in the festivities. So Pam ended her Bible study. Velma, however, continued and shortly thereafter was baptized as one of Jehovah's Witnesses.
A turning point came when Pam noticed changes in her own health. She could no longer lift her mother's walker into the car. She fell often. No one knew why. "When I got sick," Pam says, "I knew I was living for everyone else and knew I had to start living for myself." She decided to start studying the Bible again. "I am determined to finish what I started three years ago," she told Linda. There was no going back.
The mystery of Pam's health culminated last year when she was diagnosed with ALS. Thereafter both mother and daughter were admitted to Lindsay Gardens to receive full-time care. Linda would visit them four times a week and Pam would ask each time, "Study?" To Pam, these Bible studies were just as sustaining as her feeding tube, Tobii, and all the other medical devices surrounding her.
As much as everyone admired Pam's zeal, nearly everyone was apprehensive about her decision to get baptized, even Linda. She tried to explain to Pam that there was no doubt in anyone's mind that Pam sincerely loved God, even if she did not undergo the water baptism. The directors and attorneys of Lindsay Gardens also had their objections. But Pam would not be deterred. "Jesus got baptized. I don't feel complete unless I get baptized. I don't care what anyone else thinks." And so came the multiple legal forms, signed off one by one as Pam's prayers were answered.
On Saturday, January 25, 80 people gathered at Lindsay Gardens to witness the exciting event. Most in attendance were from the local congregation of Jehovah's Witnesses, but Pam's family, facility staff members, and other patients also came to show their support.
After a Bible-based discourse and prayer, the audience looked on in reverential silence as five members of the congregation approached Pam's bed and prepared her for the baptism. These men had held several practice sessions of this process to ensure Pam's safety. They secured her onto the patient transfer board and carefully carried her to the pool. In one swift, coordinated movement, they submerged her into the water for just an instant. The room broke out in fervent applause and Pam smiled. She finally felt "complete."
"It gave purpose to a lot of people," said Forrest Allen, the administrator of Lindsay Gardens who also attended the event. A former missionary from the Church of Latter-Day Saints, Allen expressed that he understood how meaningful this act would be, not just for Pam's faith, but for onlookers. "It just shows it's never too late to change. Somebody can always progress, no matter what stage of life they're in."
Pam leads an active life from her hospital bed. She looks for opportunities to encourage the nurses and CNAs that attend to her, asking them to read to her a Bible passage. She e-mails her friends a comforting Scripture. She listens in the weekly meetings of Jehovah's Witnesses held at the Kingdom Hall via phone line, which her fellow worshippers have helped set up in her room. "I have never felt more loved and part of something so huge," she states.
Pam's silent strength speaks louder than her Tobii could ever express. Pam cannot walk, talk, or use her hands, and yet she has never felt more alive. Quoting from her favorite Scripture, she says, "Jehovah renews me every day, even though my body is wasting away." It took her 65 years to find her purpose, but all Pam can say is: "I am glad I am not too late."
Be the first to know
Get local news delivered to your inbox!