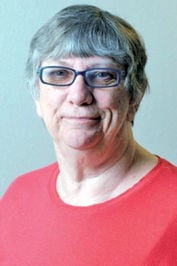 35 Years Ago
The long-awaited Lemoore Senior Citizens Center building will open for use on Monday, Sept. 23. The $420,000 center became a reality through a combined effort of many elements of the local community.
Fall has arrived and with it comes two popular sports for Lemoore's youngsters, soccer and youth football. The Lemoore Bengals and Wildcats open the grid season Saturday at Tiger Stadium, facing squads from Madera. Soccer play began Saturday at Meadow Lane School for approximately 360 locals between the ages of five and 19.
70 Years Ago
Leading this year's Golden Jubilee parade, on September 30, will be John W. Dockstader, Sr., who has been chosen as grand marshal by the parade co-chairmen, Clyde Orsaba, Jewell Tuzzi, and Gerald Bendele. Dockstader was born November 23, 1868, in Fundy, New York, and moved to Missouri at age three until age 16. He worked to gain funds to go to California, locating in Tulare. He did some yard work and later accepted employment driving a 12-mule team for J.J. Kearns and kept his job for 5 years. He likes to recall that during this time he "never slept inside nor ate a woman's cooking." The Lemoorean hauled bricks in Porterville for the first brick building and bought a bakery and confectionery store. A fire broke out in this building destroying everything "including his shirt." For the next five years he did scraping for the Pioneer Land Company, met and married Miss Lulu Kelly, and purchased a mountain ranch near California Hot Springs raising stock.  The drought led him to barber school in San Francisco. Dockstader came to Lemoore in 1899 where he took over the old Huggins barber shop. He went back to the dray business which became mechanized about 1909 when he purchased the first truck in Kings County. He later established his ice concern on the present location of Dockstader's Dairy on E Street. He was the first City Marshall of the City of Lemoore after its incorporation in 1900 and was on the City Council for some 13 years. For 14 years, Dockstader served on the school board and served as superintendent of the Lemoore Canal and Irrigation District and president of the Jacob Ranch Water Company. Now retired he keeps busy "puttering around" his yard and home.
95 Years Ago
Lemoore joined with the nation in paying tribute to the dignity of labor last Monday, by closing shops, banks, offices, etc., in celebration of Labor Day.
J.D. Pillsbury of Dinuba, a pioneer well known to old-time residents of Kings county, was here last week to interest old settlers in Pioneer Day, Sept. 17, at the Tulare Fair. Those who settled in this portion of the San Joaquin valley prior to 1875 are eligible for active membership but all old timers will get a thrill out of the reunion.
100 Years Ago
In a fire originating in the rear of the general store of Ben Wright last night about 8 o'clock, the town of Hardwick sustained a $35,000 loss, consisting of the Hardwick Hotel building and the First National Bank building and businesses contained therein. The origin of the fire is unknown. Workers were successful in saving quite a lot of goods and furniture from the store, bank, pool hall, and hotel, and Manager Sharp of the bank saved the books, notes, and papers from the bank before it burned.
"It took more than 3000 years to make some of the oldest of the Sequoias, trees that are still standing in perfect strength and beauty, waving and singing in the mighty forests of the Sierras." So spoke John Muir in his hitherto unpublished writing recently discovered among the naturalist's papers by William F. Bade, his literary executor, and now reprinted by the Save the Redwoods League. "Through all the eventful centuries since Christ's time and long before that, God has cared for these trees," says John Muir, "saved them from drought, disease, avalanches, and a thousand storms, but he cannot save them from sawmills and fools; this is left to the American People." Muir was a lover and admirer of the massive Sequoia gigantea of the Sierras. He was also an admirer of the Sequoia sempervirens of the California coast at present almost entirely in private hands and threatened with ultimate destruction through lumbering operations. Muir advocated a national park of Sequoia sempervirens. "It will have to be acquired by gift or purchase, for the government has sold every section of the entire redwood belt from the Oregon boundary to below Santa Cruz." 
Be the first to know
Get local news delivered to your inbox!