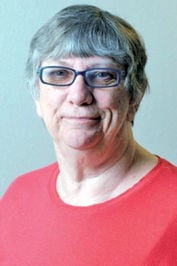 20 Years Ago
Scooters have become the latest must have toy. Butalong with the expected fun the tiny scooter rolls into a kid's life, comes problems for the riders and their parents. Although there is currently no ordinance naming "scooters" in city laws, there is a skateboard set of rules. And LPD Chief Kim Morrell said she has asked City Manager Steve Froberg and City Attorney Dale Bacigalupi to ask the city council to add scooters to this ordinance. If passed, scooters would be outlawed in the downtown area and on any public land or private property which requests application of the law (churches, other buildings and sidewalks) and within 20 feet of any business entrance.
35 Years Ago
"Women in American History" will be taught for the first time at College of the Sequoias during the spring semester which begins Jan. 13. Topics include founding mothers, women's suffrage, origins of feminism, black bondage/white pedestal, pioneer women and women in reform movements. Any person 18 years or older may register.
70 Years Ago
Due to the extremely warm winter, which the growers have experienced in Kings County this year, the trees and vines will not have a sufficient rest period for a healthy fruit set this coming year, according to Lyndon Brown, Farm Advisor in Kings County. Ordinarily it takes about a thousand hours of weather 45 degrees or colder to complete the dormant period in nearly all deciduous fruits and so far this year there has only been a little over 120 hours of weather 45 degrees or colder in Kings County.
80 Years Ago
If attendance and spirit is any indication, last night's Kiwanis Club meeting bodes well for the growth of the organization just beginning its second year. The dinner meeting marked the installation of the roster of officers for 1941. The incoming president is Lloyd Coats; Phillip W. Engvall is the new vice-president; Arthur D. Campbell, treasurer; William W. Sheahan, Secretary.
The coming of the New Year does not find the course of conquest running smoothly. Increasing friction is reported between Germany and the French government of Marshall Petain. Difficulties are cropping up with the establishment of the "new order" in Rumania. The greater part of Italy's army in Libya is now said to be immobilized, killed or captured by British forces. Any plan by the Axis powers to seize the French fleet and give Italy the balance of naval power in the Mediterranean has evidently been thwarted by the simple fact that Marshall Petain recently dispatched the French fleet from French ports to North Africa. Spain's Foreign Minister, in a published interview the other day, apologized, in effect, for having acted against Britain's interest in taking over the internationalized zone in Tangier in Africa. In the Far East, Japan is nursing an important diplomatic defeat in her failure to conclude with Russia a permanent treaty to end the long drawn out Russo Japanese fisheries disputes. Whether all these signs are portents of the future or merely passing squalls on the diplomatic seas, they were noticeable and numerous enough to provide leaders of Axis powers with prospects of a far from happy New Year.
90 Years Ago
The following Lemooreans have been appointed by Mayor Jesse Poindexter to serve on the statewide reception committee for the inaugural ceremonies ushering Governor-elect James Rolph, Jr., into office: J.H. McGlashan, Clark Clement, John Holt, C.G. DeRaad, Albert Rhoads all of Lemoore and Roy Newton, Conrad Orton, J.T. Brothers of Stratford.
110 Years Ago
Jesse St. John is now employed as driver on the express wagon for Wells Fargo.
Mrs. B.D. Scott returned from a visit to Pasadena, where she attended the Rose Carnival held in that city.
120 Years Ago
D.S. Fish has gone to the Sanitarium at St. Helena for the betterment of his health.
At a special meeting of the Board of City Trustees, John M. Dockstader tendered his resignation as Marshall of the City of Lemoore, which was accepted and Walter Garrett appointed to fill the vacancy.
Lemoore is to have a lumber yard, and the long-felt want is soon to be supplied. A. Mooney and Charles Bailey now have five carloads of lumber enroute for the new yard.
Miss Laura Holser, daughter of Mr. and Mrs. W.F. Holser, left Monday afternoon for Los Angeles to assume her studies at the State Normal school there.
Be the first to know
Get local news delivered to your inbox!