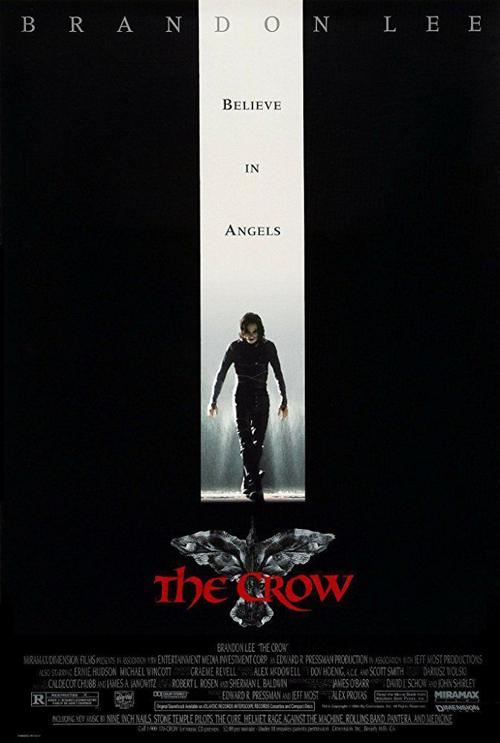 Already being somewhat of a fan of Brandon Lee in the 1991 film "Showdown In Little Tokyo" and an even bigger fan of Lee in the 1992 film "Rapid Fire," I still wasn't prepared for the impact that the 1994 cult classic "The Crow" would have on me.
I was instantly a reborn fan of Brandon Lee (son of icon Bruce Lee) and a newborn fan of "The Crow" after watching this film. It was thrilling!
Brandon Lee gives an exhilarating performance as young rock musician Eric Draven in the role that would, in real life, bring Lee's life to an unfortunate and tragic end. Lee was accidentally killed while filming a scene for the film, with only three days left before completion of the film. The producers were faced with the decision of whether to move further with the film, ultimately deciding to finish it as a tribute to Brandon.
In the film, Eric Draven and his fiancé, Shelly Webster, are set to be married on Halloween but are brutally murdered the night before by a ruthless inner-city gang. On the one-year anniversary of their deaths, and with guidance from a crow, Eric returns from the grave as a supernatural avenger to seek vengeance on those responsible.
Driven with great action, wonderful performances, beautiful set decoration, dazzling visual effects and an awesome soundtrack this fast-paced, dark, underground comic-book based romance/fantasy film is sure to thrill any fan of the early Tim Burton "Batman" films as well as the original "Blade Runner."
The film, released in 1994, is rated R. The running time is 1 hour and 42 minutes.
"The Crow" 25th anniversary screening at the Hanford Fox Theatre is set for 7 p.m. Saturday, Sept. 28. Plus, music from the soundtrack and a $1 raffle before the movie.. Doors open at 6 p.m.
Advance Tickets are $5 cash or $6 credit card plus a $2 restoration fee per order. Day of show tickets are $7 cash or $8 credit card plus a $2 restoration fee per order.
Zach Rodriguez is the programmer for the Hanford Fox Threatre's Throwback Films series. 
Be the first to know
Get local news delivered to your inbox!