It's said things happen in threes. Last week three people asked about Uncle Richard's service in the army and his time with General George S. Patton. Three people asked if I would share more of Uncle Richard's recipes. I'll do my best bringing the third three – references and facts about Uncle Richard's service, another of his recipes and some family lore.
First, as most of you already know and as I have written about several times, Uncle Richard was proud and honored to have been of service to the great General George C. Marshall. That's right, General Marshall not Patton.
Uncle Richard was a sergeant in the United States Army and became General George C. Marshall's cook and orderly at Fort Myer, Virginia in 1944. He accompanied Marshall on his mission to China in 1946 and to the "Big Four" Foreign Ministers Conference in Moscow in 1947.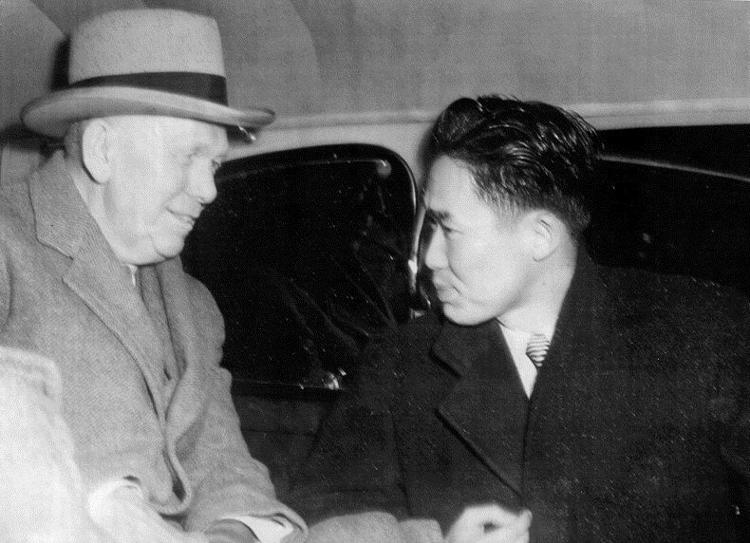 My inquirers reported that since they found the General Patton information on the Internet, there must be some sense of truth to the story. I could only shrug as say, "He was my uncle." Then I realized I could use the Internet too. I quickly typed in Richard Wing and George Marshall.
The George C. Marshall Foundation site popped up, as I knew it would, and there was the same photographic image that hung in the foyer of the Imperial Dynasty – Uncle Richard and General Marshall side by side. There was also a link to the Richard C. Wing collection in the Foundation.
The Richard C. Wing collection consists of his personal memoirs and correspondence shared with the Marshalls. Also included are photographs and documents pertaining to his military service. Uncle Richard continued to donate memorabilia to the Foundation up until a few years prior to his death. Included in the collection are a copy of the speech he gave at the conclusion of the Kings and Tulare Bar Association's annual Judges' Dinner which elaborately detailed his years with General Marshall, and a DVD of a television interview he did in 2005 as part of a "Stories of Service" program in which he spoke of his admiration for General Marshall.
Personally, I have always found the most captivating item in the collection to be a letter Uncle Richard sent from Moscow to Auntie Harriet on April 16, 1947. He wrote:
"Your letter dated April 4th was warmly received. It was about time that I got a letter from home. If I am not mistaken, it was your second letter since my departure from China. And I don't know how many letters that I have written home. Of all your letters during my adventurous Army life, I relished your last letter that most…particularly the splendid news of the two new workers and that Father and Mother are taking it easy. I have been worried about the struggle back home, how hard and many long hours you guys must work. I know how it was…because I had dizzy spells occasionally when I was home behind the kitchen. I am very delighted with the good news."
There were a few other chit chatty paragraphs then Uncle Richard wrote of one of his recent social engagements:
"I was at the dance party in celebration of the Army Week at the American House. I really had a swell time there. The place was jammed and General Marshall came in about 10 o'clock with Ambassador Smith and Mr. Stassen. The General greeted everybody and he asked the band to start the dance music. The General then grabbed a girl and was the first one on the dance floor. Stassen was beaming with great delight watching the dignified Secretary of State jiving the jazz music away. The General is a really good dancer. He stayed about fifteen minutes and went home. I stayed until 4:00 a.m."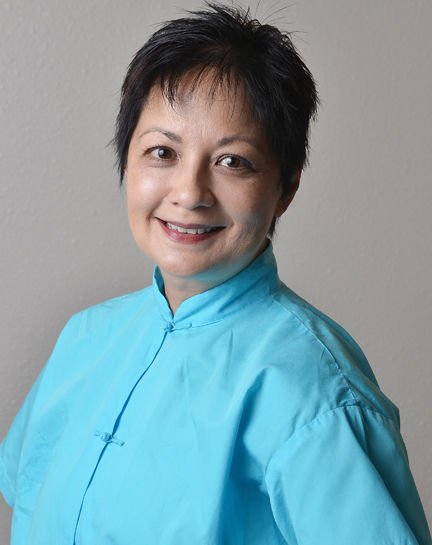 Fast-forward almost thirty years when, Uncle Richard wrote about his cooking philosophy, of the dance he did in the kitchen. He also shared a few recipes. So from Uncle Richard's treatise on a gourmet dinner, here's his eighth course, dessert. According to Uncle Richard, in planning dessert "it is best to let yourself be guided by what is in season. Fruits in their prime provide the best challenge for an inspired creation, and they offer variety year around." He selected the Carabao mango in order to "simplify the ending of this gourmet dinner with something exotic, light and refreshing…and yet, rich enough to satisfy the most avid dessert lover."
As much as I loved his message to Auntie Harriet (and the fact that she saved his letters), I also love the family theme of dancing in the kitchen from soup to dessert. I was one lucky cook-to-be to learn steps from Uncle Richard and Dad. Much later I found my own passion for the tango. And so from generation to generation, on a wing and prayer, we have continued the beat.