It would have been so simple. I needed only to ask, "Did you draw a picture of the old Fire House?"
But no, I'm Arianne, no matter what. I zig. I zag. I tango. I waltz. I often find that I'm wearing mismatched socks. I don't go about doing things the easy way, rather I seem to make things more difficult than need be.
Last month I was looking for a picture of our old firehouse. I thought there might be one in "A Taste of Kings County," a cookbook published in October 1983 by the Kings County YMCA. Dedicated to the history of Kings County, Armona, Avenal, Corcoran, Grangeville, Guernsey, Hardwick, Hanford, Kettleman City, Lemoore, Stratford, NAS Lemoore, as well as the Sarah Mooney Museum, Hanford Courthouse, YMCA Camp Redwood, State Capitol, Hanford Carnegie Museum, and the Hanford Fox Theatre were featured in a specific section of the book. For instance, Hanford was highlighted in the section of "Rice, Pasta, and Beans."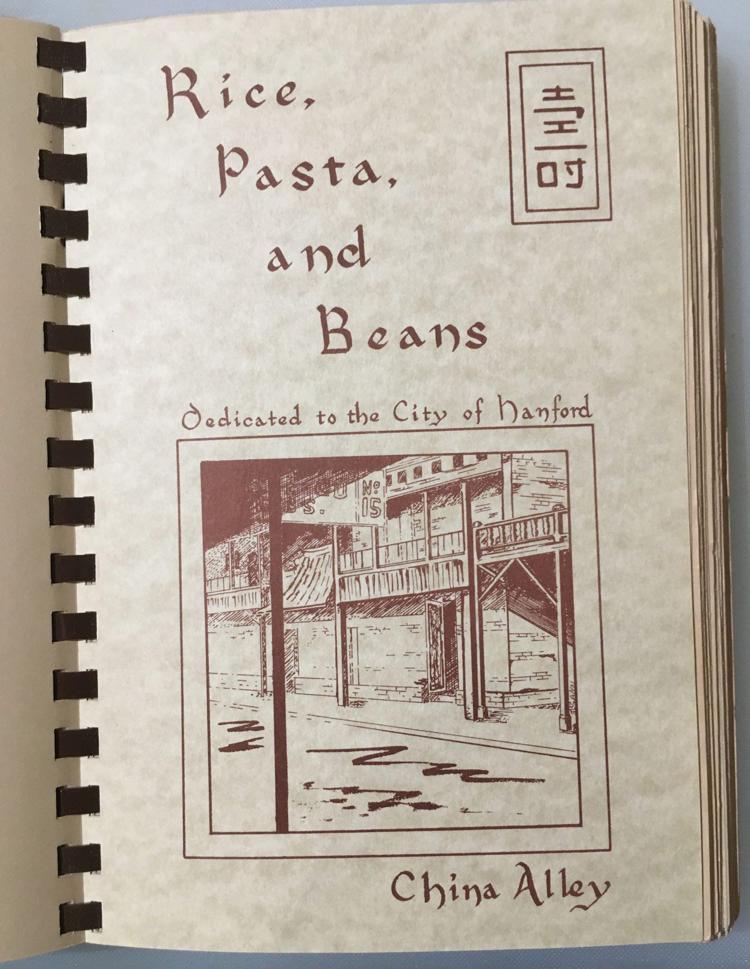 Historical notes about the county were included among the recipes, and Ann Helgerman contributed drawings that appeared throughout the book. Thus, I had wondered if Ann had drawn the old firehouse. I could not find my copy of "A Taste of Kings County." I looked at home and searched the Tea Room. It had disappeared. So I contacted Ann, but rather than ask if she did a firehouse drawing, I asked if she still had her copy of the cookbook. She responded that she did but wasn't sure where it was located.
I was on a mission. I had to see that cookbook. I had to know if there was a firehouse drawing. In a flurry of emails, texts, and phone calls, I contacted friends I knew to be, like me, avid cookbook collectors. Maureen Fukuda didn't have a copy but said she "would check with Donna." Sure enough, the next day Donna Inaba Kuntz popped in the Tea Room waving a yellow paperback book. It was indeed a Kings County YMCA cookbook, but not one I'd ever seen before. It didn't have a publishing date, but the address was the YMCA's old location on Eleventh Street.
I struck out quite a few more times, but then I hit gold. Steve Rogers had a copy. Then Chuck Forsythe dropped by with the cookbook in hand. "This is Mom's copy," he said as he handed the book over. "She's not doing much cooking these days, so I think this copy is yours." Thank you Charlene! And thank you to all my friends and neighbors for your rapid and thoughtful responses. Apparently, it takes a village to find a cookbook as surely as it does to raise a child or restore an old building or preserve historical markers and alleyways.
I was so happy to have this book in my hands. As I perused it, I saw familiar favorites, including Auntie Emma's "Chinese Pretzels" on page 3, "Pesacado de Jordan" on page 207, and "Escargots a la Imperial Dynasty" on page 402. Many of the recipes conjured up fun times and delightful meals.
But there was not a drawing of the old firehouse.
Around the same time my friend Lesley sent me a copy of "Victor Sen Yung's Great Wok Cookbook." I had never heard of this book, published in 1974. Neither Lesley nor I knew how to react to it. Victor Sen Yung is the actor who portrayed the character 'Hop Sing" in the television series "Bonanza," and here he was on the book cover dressed in his "Hop Sing" costume and posing with a wok.
In his introduction, Victor Sen Yung wrote: "Because I played Hop Sing, the Cartwright's irascible house boy on the NBC-TV's Bonanza series for fourteen years, it's not surprising that many people identify and associate me with cooking. Over the years, I have received letters from most of the eighty countries where the show airs, asking me if I really can cook and if I have a favorite recipe or two to share. 'The Great Wok Cookbook' is my humble way of answering both these questions."
Sen Yung grew up in San Francisco where his father owned a shop on Grant Street and they shopped for their groceries in the heart of Chinatown. As I thumbed through the book, many of the recipes reminded me of the type of Cantonese cooking my family served in the Chinese Pagoda restaurant.
I don't know how Lesley found this particular book, nor why she thought to send it to me, as we agreed the cover and the character "Hop Sing" were not particularly politically correct. Still, I'm glad she did. The information on Chinese ingredients and the recipes are well written. Then I remembered a weird co-winky-dink, one that made me realize the "Victor Sen Yung's Great Wok Cookbook" truly belonged on my bookshelf.
Although most know Victor Sen Yung for his role in Bonanza, he also appeared in over three hundred television shows and motion pictures. In 1942 he acted in the movie, "Across the Pacific." This I knew because I've watched that film many times. My maternal grandfather, Thomas Chan, acted in a scene in the movie. He died before Mom reached adulthood, so of course, I did not know him, but of watching him on the screen, I can still hear his voice in my mind today.
Thank you, village friends for sharing your cookbooks with me. Now I'm sharing a recipe from "Victor Sen Yung's Great Wok Cookbook." This delectable bell pepper and beef stir-fry took me back in time, and I felt as though I were inhaling aromas from the Chinese Pagoda kitchen. Serve over steamed rice or pan-fried noodles.