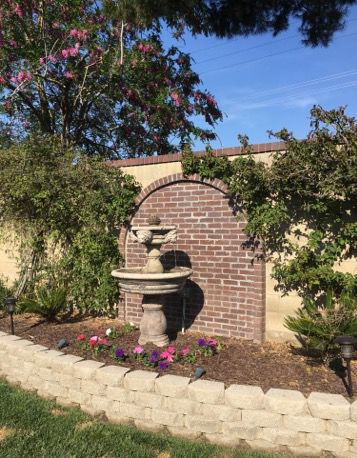 Jack and Christine Soares have a great arrangement. She finds things she wants to add to their yard and he builds them for her. He built the retaining wall along the back fence, the decorative wooden fence on the right side of the yard and he even put down the brick patio she wanted in the herringbone pattern. After a trip to Charleston they decided they wanted an archway with a fountain and he built that too.
You have free articles remaining.
Beautiful! The talent must run in the family because their son made the two corn hole game boards hanging on the back wall of the house. With the outdoor kitchen they're ready to do the entertaining they love in a yard built by Jack and Christine.
Hanford Garden Club 22nd Annual Garden Tour Saturday, April 27, 2019   9 a.m. - 3 p.m. rain or shine. We will be highlighting five gardens in Hanford with vendors and plant sale at another location. Tickets are $20 and may be purchased at Ramblin' Rose Florist in Lemoore, and An Enchanted Florist, Hofmans Nursery, Fonseca Nursery and Gonsalves-Fasso Florist in Hanford. Tickets may also be obtained from any Hanford Garden Club member or calling 707-1766 or 381-2689. All visitors attending tour must have a ticket. No strollers allowed.