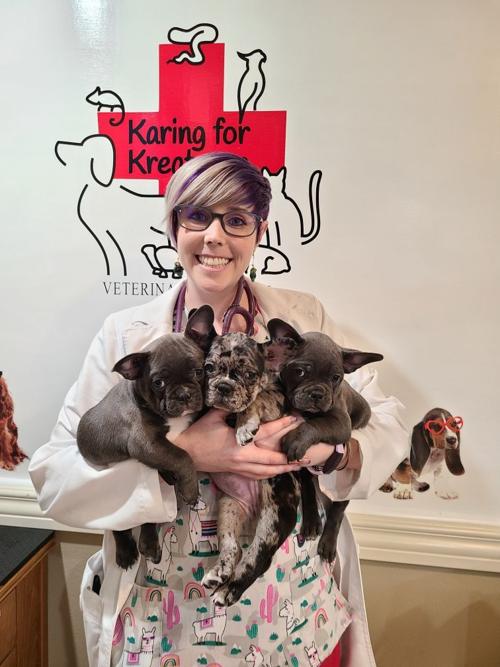 Welcoming a new "fur baby" into the family can be a very exciting time! With so many people working from home during the COVID-19 shut down, many decided it was a perfect time to welcome a new puppy. Santa will also be coming soon, and rumor is he may be delivering some puppies. With this in mind, I thought it was a perfect time to offer some tips on proper care of puppies.
The first step is to choose a breed you think will fit into your family. Be sure to research breed characteristics such as activity level, personality and required grooming care. If you live in a small apartment, then an active hunting breed may not be a good fit. Likewise, if you want your dog to jog with you, a French bulldog will not be able to accommodate your desire to go on a daily run. There is a perfect match for every home, so a little research can be very beneficial to choosing the right pet for your family.
When you bring home your new puppy, you should make an appointment for a check up with a veterinarian. In addition to checking the overall health of your puppy, your puppy will need to be dewormed, microchipped, and be placed on heartworm and flea prevention. This is also a great time to go over dietary concerns and plans for vaccinations. Over the counter or feed store vaccines are not recommended. These vaccines can be ineffective if stored or administered incorrectly. Additionally, these vaccines are generally not counted by groomer and boarding facilities.
One of the most important vaccines in our area is for parvo, puppies need a minimum of 3-4 rounds of this vaccine. These shots must be given 3-4 weeks apart. Until your puppy is fully vaccinated, it is still at risk of developing parvo, so keep a close watch on your puppy's behavior. A puppy with parvo will become very sick. The sooner you catch the early signs of the virus in puppies, the sooner you can get your puppy to the vet. Since parvo is common in young puppies, you should call your vet any time your puppy is feeling under the weather. Symptoms of parvo include vomiting, diarrhea (sometimes bloody), loss of appetite, and being lethargic. Due to high risk in our area, your puppy should not be venturing out to pet stores, dog parks, kennels, groomers, or even on walks outside your own backyard.
The parvo virus can live in the soil for up to two years, so it's better to be safe than sorry. It's safest to keep your puppy at home or in your own backyard until the entire vaccine series is complete.
In addition to parvo vacines, your puppy should get a Bordetella vaccination at 8-12 weeks of age. Puppies with kennel cough often develop a loud and frequent cough, that sounds sort of like a seal bark. It can also cause the puppy to gag after coughing, so it's sometimes mistaken as the puppy trying to vomit or cough something up.  If you plan to board your puppy, most kennels require this vaccine be given every six months. Most also require a flu vaccine.
Just like you can get the flu, so can your puppy. The signs of this illness in dogs are cough, runny nose, fever, lethargy, eye discharge, and reduced appetite. The severity of illness associated with canine flu in dogs can range from no signs to severe illness resulting in pneumonia and in some cases death. Prevention is the best medicine, so a vaccine is well worth preventing this serious condition.
At 16 weeks, your growing puppy will be old enough to be rabies vaccinated. Remember, rabies is required by law for all dogs in the state of California. Even if your puppy will not be leaving your yard, it could still bite someone. If your dog bites someone and is not vaccinated for rabies, Animal Control will be in contact for the safety of the community. Though some argue rabies is rare, it is the law and it will make your life far less stressful in the event of a bite.
One final vaccine to consider is Leptospirosis. Leptospirosis "lepto" is a highly contagious infection that affects most mammals. This is important because protecting your puppy against lepto is also protecting the humans in your family. Symptoms range from flu like symptoms, to kidney failure, or even death. The bacteria is most frequently found in contaminated water such as puddles, standing water, lakes, or in mud or beach sand. If you travel with your pup, lepto is recommended.
Also keep in mind that Kings County has mandated spaying and neutering, so you will need to obtain a breeder permit if you wish to breed you dog. Besides spaying or neutering being required by law, it is also provides many health benefits. Many pet owners do not know that spaying or neutering reduces your pet's risk of certain types of cancer. It can also prevent a condition called pyometre (an infected uterus) that requires a costly emergency surgery to save the dog's life. Neutering young can also help with behavioral issues in male dogs. Most male dogs neutered young won't  lift their leg to mark and also tend to be less aggressive.
So after you get done enjoying all the puppy hugs and kisses, call and make an appointment with your veterinarian. Establishing a relationship with a veterinarian will help to ensure a lifetime of health and happiness!
If you have a question, simply email askdrkait@gmail.com.
Dr. Kaitlen Lawton-Betchel grew up in Lemoore. An alumni of West Hills College and Fresno Pacific University,  she graduated from Midwestern University in Arizona with her doctorate of veterinary medicine and her business certificate. Dr. Kait currently practices out of Karing for Kreatures Veterinary Hospital, also known as K+K.
The hospital is located at 377 Hill St., Lemoore.    To make an appointment, call 559-997-1121. 
Her column runs every other Thursday. 
Be the first to know
Get local news delivered to your inbox!