HANFORD — Hundreds gathered in front of the Hanford Civic Auditorium Sunday for a night of music and family fun.
Returning for their first show since being shut down in the pandemic, the Kings Symphony Orchestra kicked off their 2021 season with their Pops Concert Under the Stars. Usually their most popular concert of the year, the Pops Concert sees the orchestra perform classic show tunes and songs from popular movies, such as "West Side Story," "The Phantom of the Opera" and "The Pirates of the Caribbean."
According to Jeff Fritz, music director for the Kings Symphony Orchestra, there were about 80 performers at the show, many of them high school and college students. He explained that rather than feel nervous, his musicians were anxious to start.
"Typically, we'd have a full rehearsal where we'd run the entire concert," Fritz said. "Tonight, we showed up about a half-hour early, played snippets of each tune, got warmed up and took off."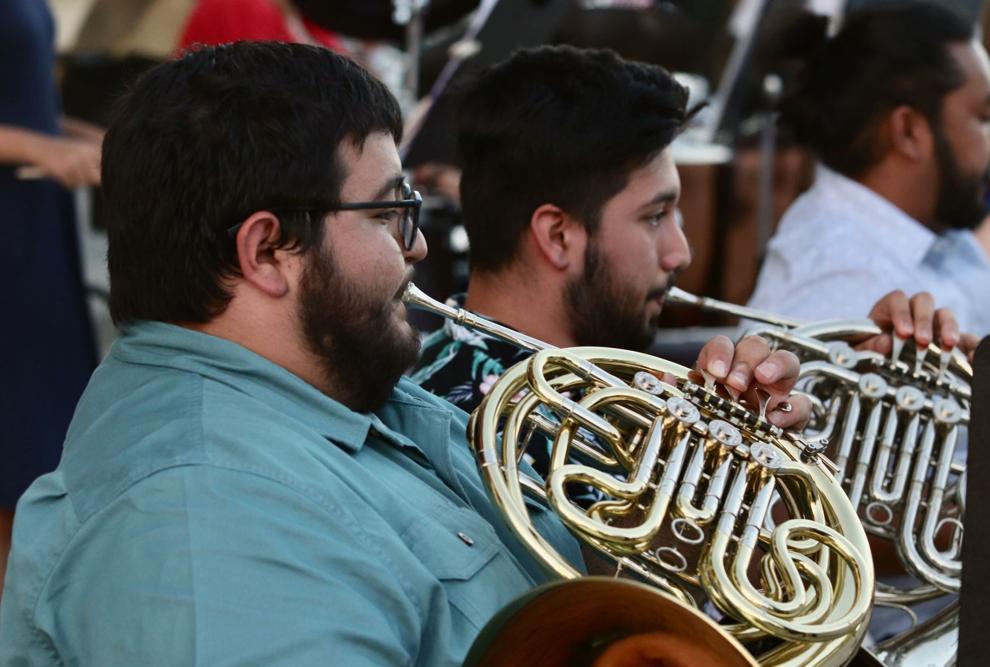 The audience and orchestra were also treated by a break from the severe heat with a mild, breezy evening.
"I told the orchestra beforehand, 'Every breeze that knocks your music off the stand, be grateful, because it's cooling you off.'"
The show was finished off with a rendition "The Stars and Stripes Forever," with Hanford native and lemonade stand owner Daniel Coakley taking the helm as the guest conductor for the show.
Symphony Board President Emily Navarre was among those performing, playing the flute, piccolo and oboe for the concert, coming down from her home in Olympia, Washington to do so.
"I think it went great," Navarre said. "It went really well, especially when we only had two rehearsals."
A portion of the proceeds from the concert will go to the China Alley restoration to help with the repairs on the Taoist Temple Museum after last month's fire.