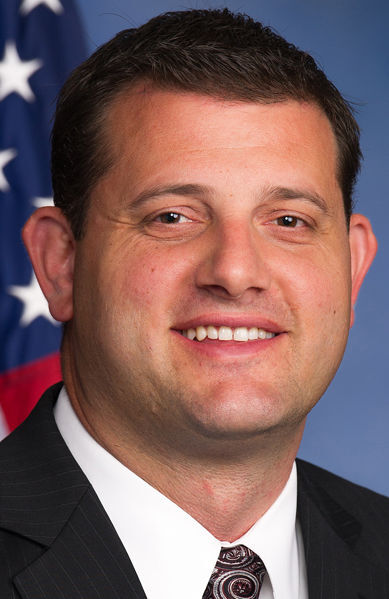 HANFORD — In preparation for the Nov. 3 general election, the Sentinel asked the two candidates running for the 21 Congressional District a few questions so voters can get to know them.
In this race, Republican David Valadao is challenging incumbent Congressman TJ Cox (D-Fresno), who is running for his second term.
Valadao previously held the seat for three terms from 2013-2019.
The 21st Congressional District includes all of Kings County and portions of Fresno, Tulare and Kern counties.
Tell us a little about yourself.
I was born and raised in Hanford. As a lifelong resident of the Central Valley, growing up on my family's dairy farm, I've been active in agriculture and dairy industry groups, as well as many local charities, for most of my life.
I attended local schools, graduating from Hanford High School in 1995 and later attending the College of the Sequoias in Visalia. I married my high school sweetheart, Terra, in 1999. Together, we have three beautiful children.
In 2010, I was elected to represent California's 30th State Assembly District and served on several California Assembly committees including the Agriculture Committee.
I served as a member of the U.S. House of Representatives, representing California's 21st Congressional District, which includes Kings County and portions of Fresno, Kern, and Tulare Counties from 2013 to 2019. While in Congress, I served on the influential House Appropriations Committee, which is responsible for funding the federal government and determining where American tax dollars are spent. I was able to support our farmers by funding programs to help Valley agriculture, fight against federal funding for California High Speed Rail, deliver more water to the Valley, and secure the F-35 program at NAS Lemoore.
Why are you running for Congress?
I'm ready to bring strong, practical leadership back to Congress. As your Congressman, I delivered real results to Valley families but I can't help but feel like I have unfinished business in Congress. We need someone who isn't afraid to work with Democrats and Republicans to achieve real results for our communities. As a lifelong resident of Hanford, I know what the Valley needs because it is my home.
I've always fought to do what's right for the Valley. We need a strong voice representing us in Congress—someone we can trust, who listens and understands that Central Valley residents just want an opportunity to provide and build a better life for their families.
We need to protect our water, make health care more affordable and accessible, work to bring new jobs and job training to the Central Valley, and stand up for seniors and veterans to ensure they get the benefits they deserve.
What's the biggest issue in your district and how will you work to solve this issue?
In the Central Valley, life as we know it is dependent upon securing a reliable and clean supply of water. Farmers, families, and entire communities must receive the water they need to strengthen the economy and raise our families.
As a dairy farmer, I understand the challenges that our farmers and ranchers face as a part of California's competitive agriculture industry. California must remain an agricultural leader, providing good careers for Valley workers and food for the world.
I know that a safe and stable water supply is critical to the Central Valley and the state's $54 billion agriculture industry.
How are you different from your opponent?
The most important difference between myself and my opponent is our character. I worked tirelessly while in Congress to gain the trust of my constituents and make them proud to have me as their Representative, always putting the people of the Central Valley before any political party.
With TJ Cox, we've had nothing but two years of unending scandal. Before he was even elected, he loaned his campaign $250,000 instead of paying his state and federal income taxes. Once in office, it only got worse. He was reprimanded by the House Ethics Committee for failing to disclose foreign business interests from the voters. He constantly misrepresents the truth in an attempt to mislead his constituents. We've all witnessed the culture of dishonesty and corruption from our current Congressman and it's certainly not something to be proud of.
Most importantly, I am from this district. TJ Cox has never lived here and can't even vote for himself.
Why should voters select you?
I am humbly asking for your vote because I've earned the trust of the constituents of California's 21st District with my record of bipartisan and independent leadership. Whether it was President Obama or President Trump in the White House, I have always done what is right for the Central Valley to protect DREAMers, fight for comprehensive immigration reform, and bring more water to our communities, farmers, and ranchers
Be the first to know
Get local news delivered to your inbox!