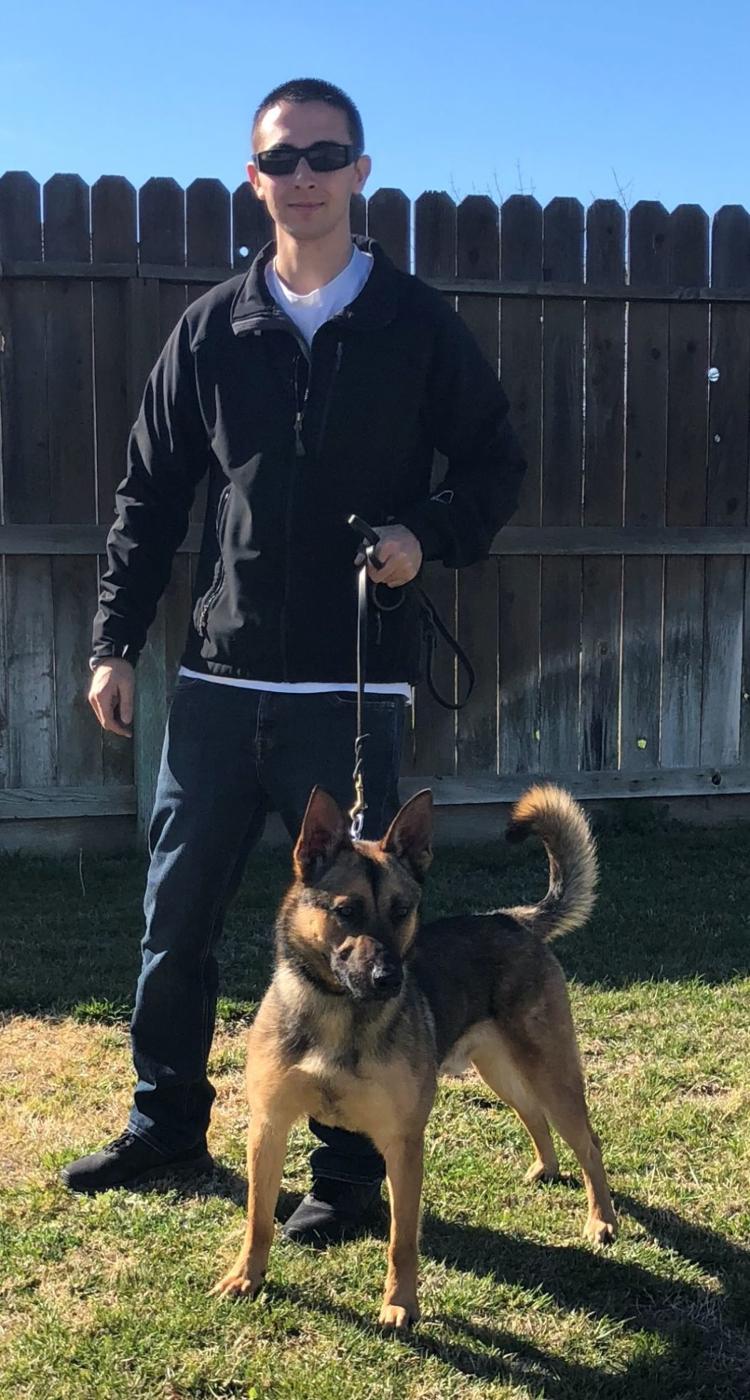 HANFORD — Argos, Hanford Police Department's K-9 officer, has only been on patrol for about four months, but he's going to have another furry coworker a lot sooner than expected.
Thanks to donations and fundraising, the department had enough money to purchase a new K-9; a Belgian Malinois from Poland by the name of Nico. He will be the department's second dual purpose dog, trained in both apprehension and narcotics detection.
Officer Chad Medeiros has been selected to be the K-9's handler, an opportunity he's been working toward for years.
"It's been a goal of mine since I started my career almost five years ago," Medeiros said about working with a K-9.
Nico was selected on Thursday and has already undergone some rigorous medical testing to make sure he's up to par for police work. Medeiros said he and Nico are in the bonding stages right now and they will both leave for an eight-week training course at the end of April.
"I'm excited to see him work, perform and help the city in any way," Medeiros said, adding it took a lot of work and donations from various people to achieve this goal.
The Hanford Police K-9 Foundation, a nonprofit foundation that was formed in 2015 to address the need for funding to purchase K-9s for the department, was able to come up with enough money to purchase current K-9 officer Argos, though it was no easy feat.
Lt. James Lutz said police K-9s are quite expensive, averaging about $25,000 for both the dog and training of the dog and handler; not to mention the K-9 vehicle, which he said costs about $55,000 after being outfitted with the proper equipment. There are also the ongoing costs of food and insurance, and about $4,000 a year in additional training.
Fundraisers and T-shirt sales helped purchase Argos, but Lutz said the foundation's inaugural Octoberfest craft beer festival raised over $14,000 last year and gave the foundation enough money to present to the city to buy a second dog.
"We still have some more fundraising to do," Lutz said. "Our goal is to get four dogs total — one for each shift."
Before Argos, the police department had to rely on the Sheriff's Office K-9s or K-9s from neighboring agencies if they needed an apprehension dog. Steven Olivera, the K-9 Foundations board treasurer, said this method was not ideal.
"We're thrilled and happy to be able to get two dogs for our officers and the community," Olivera said, adding he's proud and thankful to the community for "stepping-up" with their donations.
In January, Hanford Elementary School District's READY Expanded Learning Program and Jr. Explorers raised almost $3,000 to get Argos a ballistic vest. Lutz said the vest covers all the vital areas of Argos and he can wear it every day.
Lutz also said the community gave "tremendous support" and he wanted to thank everyone who donated money, time or effort into getting these K-9s.
"It's quicker than I expected," Lutz said. "If it wasn't for the support of the city, [Police Chief Parker Sever] and the members of this community, we'd probably be nowhere near what we would even need for one dog."
As another way of ongoing fundraising, Lutz said the department will start selling a stuffed-animal version of Argos sometime within the next few months.
Lutz said the next Octoberfest, set for Oct. 20, will hopefully be bigger and better and will bring in enough money to purchase a third dog.
It's going so great with Argos, Lutz can't help but look forward to the possibilities of more K-9 officers, including apprehending criminals, searching for narcotics, searching for people and also giving presentations.
"Until you have one, you don't realize how great they are for an organization and the citizens of a city," Lutz said.