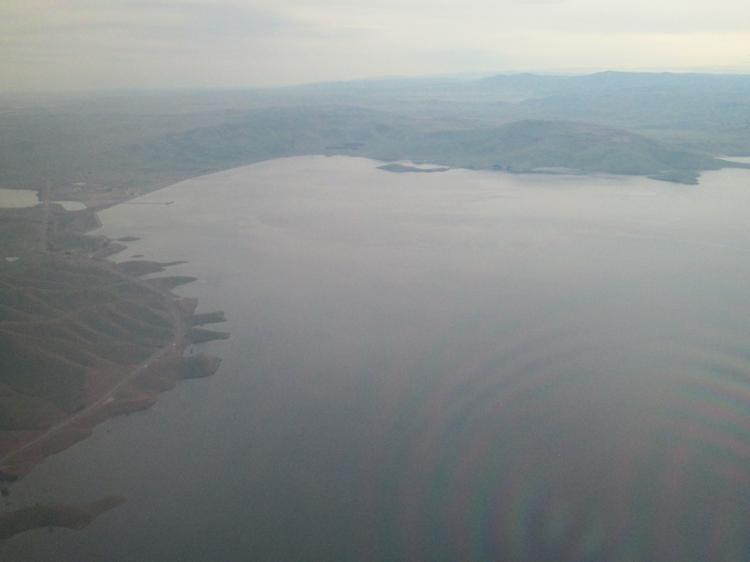 HANFORD — The Bureau of Reclamation announced the initial 2018 water supply allocation for many Central Valley Project (CVP) contractors on Tuesday, and left western Kings County farmers in Westlands Water District with very little to work with.
Westlands and other agricultural districts south of the Sacramento-San Joaquin River delta will get 20 percent of their contracted supply, the Bureau announced in a written statement.
"It's not enough, we need 100 percent," Kings County Supervisor Doug Verboon said. "You can't live off of 20 percent of your paycheck. You can't live off of 20 percent of anything."
Westlands Water District includes about 40,000 acres in Kings County, Supervisor Joe Neves said. He said most of the water is used to grow permanent crops, like almonds and pistachios.
The water allocation is based on a conservative estimate of the amount of water that will be available for delivery to CVP water users and reflects current reservoir storages, precipitation and snowpack in the Central Valley and Sierra Nevada.
The 2017 water year was the wettest on record for most of northern California and CVP reservoirs were essentially full for the first time in five years; however, precipitation so far this year has been far below average.
The California Department of Water Resources (DWR) reports that as of Feb. 15, the statewide average snow water equivalent in the Sierra Nevada was 4.3 inches (20 percent of the historical average).
"Despite the historic rainfall last year, California's lack of sufficient water storage forces us to operate on a year-to-year basis. The amount we can store in our reservoirs is not enough to get us through these very dry years," David Murillo, Reclamation's Mid-Pacific Regional Director, said in a released statement. "Given what we know today, and what we see in the forecast, we must be very conservative with our allocation. If this lack of rain and snow continues, we could very well be right back in drought operations. A situation like this really underscores the need for more storage in California."
Congressman David G. Valadao (R-Hanford) released a statement Wednesday in response to the announcement where he voiced his dissatisfaction with the allocation amounts.
"This announcement is both incredibly disappointing and unexpected and I urge President Trump's Administration and the U.S. Department of the Interior to reconsider the 2018 CVP allocations as soon as possible so our farmers are able to make critical decisions early in the growing season," Valadao said in the statement.
Valadao also said the issue must be resolved through legislation and recommended Congress come together to provide solutions for California growers, mentioning H.R. 23, his GROW Act bill meant to expand water infrastructure and allow for more water conveyance while protecting the water rights of users across the state.
"The House has already passed H.R. 23 and now, the Senate must act to eliminate burdensome federal regulations and provide desperately needed investments in our water infrastructure," Valadao concluded.
Neves said a lack of sustainable surface water leads to a higher demand for groundwater and wells. Using groundwater comes with certain disadvantages, he said, including the water not being as good for soil as surface water and the energy cost of pumping the water.
"It's a little bit of a scarier process to rely on wells than from sustainable surface water," Neves said.
Murillo said many factors are considered when determining CVP allocations, including hydrologic conditions, reservoir storage levels, water quality requirements, water rights priority, contractual obligations and endangered species protections.
Should conditions change, CVP supplies could also change. The Bureau said it will continue working with the DWR, federal and state fishery agencies, contractors and others to effectively carry out project operations and improve water supply.
Current dry conditions and the dry forecast underscore the need for all Californians to be conservative in their water use this spring, Murillo said. He said without significant rain and snow this spring, conditions could worsen.
As the water year progresses, the Bureau said changes in hydrology and opportunities to deliver additional water will influence future allocations.
Neves said it would be nice if March brought some more rain and snow, and he's hopeful the allocation will increase and take the burden off the aquifer.
If not, both Verboon and Neves said it could end up being a tough year not just for growers and the entire farming industry, but the consumers as well.
"Everyone benefits from a good farming year," Verboon said.
"It'd be a bad deal if California slips back into another water deficit," Neves said.