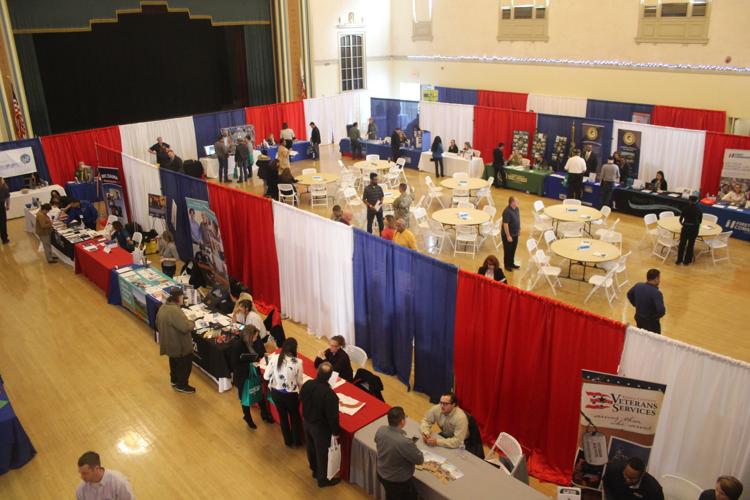 HANFORD — Whether unemployed or seeking to improve their situation, veterans and non-veterans alike showed up to the "Honor a Hero, Hire a Vet" job fair.
The Employment Development Department (EDD) put on the annual job fair in conjunction with several other organizations Thursday at the Hanford Civic Auditorium with the goal of helping to reduce unemployment among veterans and the community at large.
By an hour into the four-hour event, 97 Kings and Tulare county residents checked in. The final count of attendees was 166 and around 59 percent of participants were veterans.
There were 60 employers offering jobs, internships and apprenticeships, and 13 community-based organizations offering resources for job seekers.
Andrew Schantz, a partner at New York Life Insurance Company, said they are always looking for new agents.
"One of the things we like about veterans is that they are regimented and they follow a system," Schantz said. "That is what makes agents successful."
Each booth had its own way to entice job seekers. The most interactive display was the simulated welding program that the Carpenters Training Committee for Northern California had to promote its apprenticeship program.
Scott Lewis, the Carpenters Training Committee's district coordinator, said that eight of the 10 crafts they train include welding in some way.
Plenty of employers had positions open. However, not all participants were looking to be hired right away.
A Lemoore resident and reservist, Dominique Ross, previously served in the Marine Corps for four years and is currently studying criminal justice online at Park University. She attended the fair to learn about careers that she could have after she finishes her education.
Between Fresno, Kings and Tulare counties, the rate of unemployment among veterans in 2015 was close to 8 percent according to the Employment Development Department. The unemployment rate in all of California in 2015 was around 6 percent according to the U.S. Bureau of Labor and Statistics.
James Romero, 38, served in the Navy, worked in dairy production for 15 years and has been unemployed for two months. This father of two and Tulare resident came to the job fair at the advice of his Veterans Affairs representative.
"I've got a lot of feelers out there," Romero said. "I'm just waiting for job offers."
Romero said he appreciated the variety of business at the job fair. Although much of his employment background is more mechanical in nature, Romero said he was open to trying anything that was interesting and had "a good work-life balance."
Another Tulare resident, Anna Rodriguez, explained to Kaweah Medical Center representatives her need to clean.
Rodriguez has a job cleaning a gym in Tulare County. She saw this job fair as a way to find a housekeeping position that had more benefits, particularly health care benefits.
The job fair sponsors and the American Legion in Hanford made it possible for all attendees and employers to have lunch.
Elizabeth Martinez, employment program manager for the EDD, said the event was meant not only to reduce unemployment within the veteran community but also the entire community.
Scott Holwell, Kings County Veterans Service Officer, said they moved the event from Lemoore back to Hanford because past attendees said it was difficult for them to get to the fair in the past couple of years. He said for the past six years they had held the job fair at West Hills College in Lemoore.