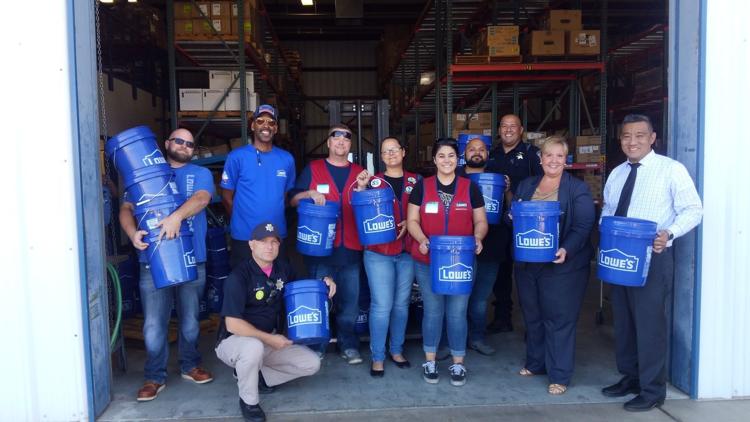 HANFORD — Although we may not like to think about it, emergency situations do happen, and it's best to be prepared.
Hanford Police School Resource Officer Per Westlund, assigned to Hanford Elementary School District, is always looking for ways to keep his students and staff safe.
His most recent project involved outfitting every classroom in the district with an emergency bucket, or what Westlund likes to call "comfort buckets."
While emergency buckets are not a new concept, Westlund said they are new to the Hanford area. The idea is to have emergency items on-hand in the classroom in case of an extended school lockdown.
Westlund remembered a few years ago when Hanford High School went into lockdown for about two hours. The lockdown meant students and staff basically barricaded themselves in their classrooms and no one was allowed to leave for any reason until law enforcement deemed it safe to do so.
Not only did the students and staff have to mentally process the fear of getting hurt, they also had to deal with issues like students getting sick or having to use the restroom. He said several students had to relieve themselves in trashcans without any privacy.
Westlund said it's unfortunate to even have to think about things like this, but with the increased numbers of threats and school shootings, he felt he could not have the naïve thinking of "this would never happen here."
"If high school kids were traumatized by the extended lockdown, I could only imagine how much more vulnerable my elementary school children would be in a similar situation," Westlund said. "Something had to be done."
Westlund brought the issue to the attention of the district's safety committee. He said members agreed it was a great idea and the buckets would definitely help in meeting students' needs in case of a lockdown.
He said there are already emergency buckets for sale, with costs ranging between about $40-60 for each equipped bucket. The idea was put aside for a while due to the cost it would take to get one for all 283 classrooms in the district.
Westlund compiled a wish list of useful items in an emergency: a 5-gallon bucket to hold items and to be used as a "potty"; toilet paper; latex gloves; anti-bacterial wet wipes; plastic hazmat bags; a couple of Mylar blankets to be used as a privacy screen or in case of shock; a small first-aid kit; water; duct tape; etc.
He could keep adding items, but wanted to be mindful of the expense. Westlund said he figured he could assemble the buckets on his own in order to save money.
After receiving support from school officials, Westlund contacted April Matthews, assistant manager of Lowes in Hanford, to ask if the store was willing to partner with him on this project. He said he'd already heard that Lowes helps the community out in different ways.
Matthews was enthusiastic about the idea and told Westlund that a part of Lowes' budget is allocated toward helping the local community, especially involving safety.
Matthews later contacted Westlund and said Lowes was in.
While Westlund hoped Lowes could donate some of the buckets and items, he said he was "floored" when Matthews told him the store would provide 300 buckets and most of the items needed to get the project up and running, plus and $800 gift card for additional items.
A couple weeks later, Lowes had all the buckets and items available and a crew of employees was ready to assemble them. Westlund showed up to help.
"Assembling 300 buckets was no easy task," he said. "We did have a lot of fun though."
Lowes staff delivered the bucket to HESD, and the school district was able to purchase the few items left to complete the buckets.
The comfort buckets were placed in all classrooms when schools opened back up after winter break. Westlund said teachers were informed about the contents of the buckets and they are also free to supplement and customize the contents in any way they see will be useful for their students.
Westlund said the project was one of the most fulfilling and rewarding experiences he has had since being assigned to the schools. His wish, of course, is for the buckets to never have to be used.
He said he wanted to thank not only the Lowes corporate office, but also the many local store employees that helped make the project happen, the staff who helped add items and delivered the buckets to the classrooms, and the school district for its continued commitment in keeping students and staff safe.