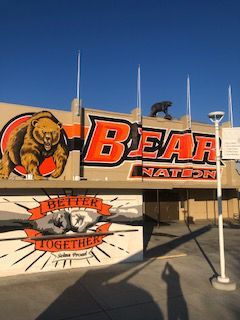 SELMA — Why did Selma High Activities Director Mike Pallesi lead the charge to put a new mural above the entrance to Selma's 59-year-old Deis Gymnasium?
"It needed it," said Pallesi. The graduating classes of 2019 and 2020 really wanted to do something to help the school. The stadium was an option. "They never really could decide on what to do."
Pallesi added the option of the gym. He contacted Boss Graphics (who did the original mural somewhere around 2002) and they came up with a design.
"We wanted to keep the integrity of the design that was done before," said Pallesi.
The highlight of the mural is the bear at the south end.
"The brown in the bear has three different shades of brown," said Selma High Athletics Director Randy Esraelian. "It gives it more of authentic look."
The bear paws at the north end almost look like they are painted in three dimensions. The gym mural blends in with a "Better Together" mural which was recently added to the old pool and gym snack bar, which is now being used as a laundry room.
"This mural is now the focal point of the interior part of the school," said Pallesi, who together with the faculty and staff, started working on a different campus culture at the beginning of the year before the pandemic shut down the campus.
The gym mural combines with the completed stadium (which has been used only for the school's virtual graduation in late May) and the repainting of the gym floor.
Both Pallesi and Esraelian wanted to thank the school's maintenance staff, who spent about a week prepping the old mural.
"It was cracking and peeling," said Pallesi. A water blaster was used. They also had to scrape the old mural off, according to Esraelian.
Student volunteers joined Boss Graphics staff in completing the work in a week. "They even worked in the rain," said Esraelian.
Murals are planned for the band room, library and the end of each hallway. Inside of each letter, clubs and sports will be listed.
Be the first to know
Get local news delivered to your inbox!