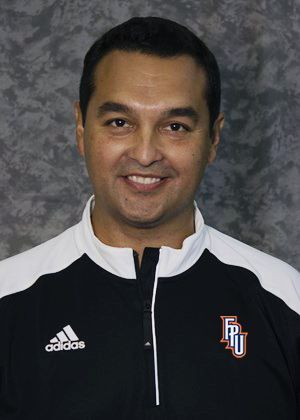 If you are a teacher, coach or youth pastor, you have seen a lot of young people come through your programs. You try to follow their lives.
Many, of course, never leave town. Those are the ones we see every day, and usually we are proud of the adults that they turned into. Others leave and we never see them again, leaving us to wonder about their fate.
Then there are the ones who leave and come back. And we look at them and say, boy, they did it. They became someone to admire, who has "made it" in their field and  our society.
And we are proud for any small contribution we might have made to their progress as productive human beings.
George Rodriguez is one of those. And I have rarely been prouder of a person who is not a member of my immediate family.
This week Rodriguez, from the Selma High Class of 1993, took over as head coach of the men's and women's tennis teams at Fresno Pacific University. That might come as a surprise to those who knew him as a young teenager. But it doesn't surprise me.
Let me take you back to the early 1990s, when I was an an assistant coach for the Selma High boys and girls tennis teams. George was a newcomer to tennis, a kid from a farm labor family who somehow took a shine to a game that for decades was known as a country club sport.
He wasn't a naturally-gifted athlete blessed with awe-inspiring swiftness and agility. But what he did possess was focus and determination. And a huge desire to get better, which he did every year.
Rodriguez says his attitude came from his parents, who spoke little English: "I remember my dad making $4.25 an hour in the fields. I also remember going out and helping him work and remember asking him how can he stand the heat, the back breaking work and getting filthy dirty everyday for $4.25."
"To this day I remember his response to me. He said if I wanted a better way of life, to really focus on going and graduating high school and college. To make something of myself no matter how difficult it got."
After switching from baseball to tennis in junior high, George failed to make the team in eighth grade. But he kept at it, and by his junior year (spring of 1992) he had risen to No. 5 player on a very strong Selma High boys tennis team. Our top three were European exchange students and No. 4 was a senior.
That meant George was poised to play No. 1 for us as a senior. Tennis was a spring sport, and in the fall of 1992 I ran into George at a Bears football game. He told me he was so excited about the upcoming tennis season, he was going to skip soccer so he could focus on his game.
That did not please me. Each spring we had benefitted from George being fit for tennis because he played soccer for Selma High in the winter. And I told him that: "George, if you don't play soccer, you know what will happen. You'll show up for tennis out of shape."
Well, he played soccer, showed up to our tennis team in fine condition and had a strong senior year. He then played two seasons at Reedley College (rising to the No.1 spot), then transferred to Ferris State, an NCAA Division II school in Michigan, for two more seasons.
He has lived in Michigan since then, and was a club pro and assistant college coach when the Fresno Pacific job opened up. The Sunbirds, now playing in NCAA Division II, are reinstating men's tennis, having done the same for the women two years ago. (The school had dropped the sport because of NCAA violations in 2014.)
George's parents, who immigrated from Guanajuato, Mexico, in the 1970s, are deceased but he knows they would have been so proud of him. And those of us who know him from his years at Eric White, Terry, Roosevelt, and Selma High schools certainly are, as well. Proud of how far he has come from his elementary school days of ESL classes.
And he is grateful for his upbringing in our town.
"Growing up in Selma was the best experience of my life," he said. "I had to work for everything I had. Nothing came easy for me and nothing was given. A hard work ethic that was instilled in me by my parents has been the foundation."
So there it is, a small-town success story. There are many other similar stories, of course, And they need to be told so that today's youth can understand that there is a world out there beyond Selma.
As coaches, we are reminded not to have favorites, that every player is as important as the next. But the reality is that some of them leave a more lasting impression on us than others.
For me, George Rodriguez is one of those, the first in his family to graduate from high school and attend college. As an old, retired coach, I relish the opportunity to watch him deliver his message of hard work and dedication to the next generation of college tennis players.
Longtime Selma resident Ken Robison is a retired newspaper reporter, editor, columnist and photographer — and former tennis coach. Selma Stories appears regularly in The Enterprise.
Be the first to know
Get local news delivered to your inbox!