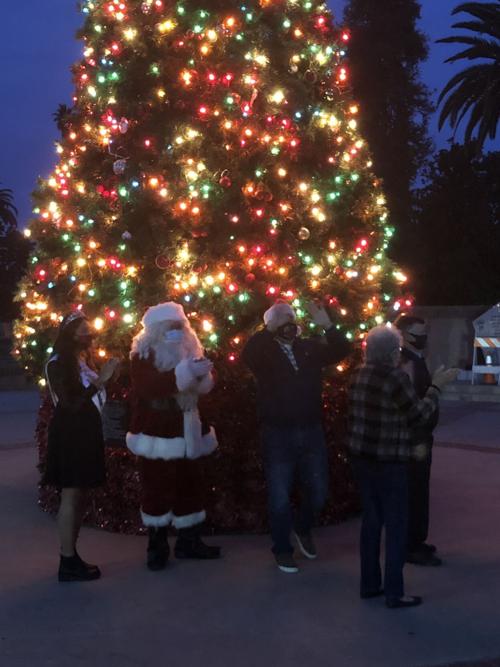 The word "essential" has been used frequently over the last nine to ten months.  It's usually used in reference to particular career fields – doctors, nurses, caregivers, farmers and emergency personnel.
But sometimes we forget that events can often be just as essential as people.  This was the case on Saturday, Dec. 5 when the city of Selma held its annual Christmas Tree Lighting Ceremony at the Lincoln Park plaza on the corner of High Street and 2nd Street.
"Community events such as our Christmas tree lighting and Christmas Parade are essential to our community," said current city mayor Louis Franco.  "They add to the quality of life of our residents."
This same sentiment was held by several in the city council and the city chamber of commerce, including Bob Allen, the Chamber's executive director.  Allen has been spearheading the lighting ceremony and the Christmas parade since 2016.
While many of this year's major events – like the annual band festival and Fourth of July celebration – were cancelled because of the COVID-19 pandemic, this was a small way for Selma to come together in seasonal celebration and community support.
While the Christmas Parade wasn't held this year due to statewide strictures, the tree lighting kicked off in the evening.  A pair of city fire trucks rolled south down High Street towards the plaza with Santa Claus riding atop the back of the second truck.  Despite the limited turnout, the children present were excited to see Jolly Ol' Saint Nick.
Santa was joined by Mayor Franco, Mayor-Elect Scott Robertson, and Selma's reigning Raisin Queen, Ashneet Gill, at the base of the towering tree where they reached into the pine needles and activated the lights.  Unanimous applause followed.  The glow from the tree looked like a beacon of festive hope in a year that desperately needs it.
This singular event is one way in which many members of the city council and leadership have – as Mayor Franco puts it – invested in Selma.  Between Allen, Robertson, Franco, and a few others on the council, there are decades of servant-leadership directed at improving and investing in Selma's community.
"We have learned from this year that there are alternatives to doing business as usual and we will be prepared for the new way of doing our events," Allen said.  "I have confidence [that] 2021 will be a different year than 2020 and hoping the traditions that make us Selma will happen again."
Be the first to know
Get local news delivered to your inbox!