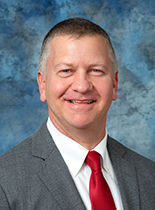 SELMA — As of Friday evening, it looked like Selma would be changing Mayors — and, for the first time in the city's history, he'll be chosen by the voters. 
With 100% of the precincts reporting, but mail-in ballots still being counting, Councilman Scott Robertson leads over current mayor Louis Franco by nearly 10 points. 
"I'm feeling good with the early results," Robertson said Thursday. "I'm really happy for the community, seeing the great turnout we had for the election." 
Robertson, a former mayor, ran in opposition of Selma Measure E, which would in 2022 repeal the current ordinance allowing Selma voters to elect their own mayor, rather than a mayor pro-tem being selected among the council. The Council would continue to be made up of four districts if the measure fails.
In order to pass, Measure E would need 50% of the votes plus one. As of Sunday, voters were opposed to the Measure by the tune of 59.33%.
"I think people really do want the ability and the power to elect their own mayor," Robertson said. "Voters have resoundingly voted it down so far. We still have a few more cycle counts to go through but there's a pretty good distance right now between no and yes and I just hope that continues. It's a way to keep our citizens involved and it's a way to empower our citizens. Our citizens should have a voice." 
Mayor Franco, in favor of Measure E because it would allow for five districts instead of the current four, received 2,916 votes as of Sunday, or 45.03%, to Robertson's 3,560 votes, or 54.97%.
Franco did not immediately return a call to the Enterprise Recorder for comment.
Robertson said that he feels his message of helping to keep the community safe and healthy is what resonated most with voters. 
"I think people responded to the campaign's message of more public safety and public safety being the absolute foundation of our city and making it a good place to live and work," Robertson said. "That has especially resonated during this time of COVID and the challenges that we are all facing."
Robertson said that he feels voters also responded to his message of economic development in the city, as well. 
"How do we pay for that public safety? We have to make sure we take care of our businesses and generate sales tax," he said, adding that it's important to incentivize new businesses and revitalize the downtown area. 
Be the first to know
Get local news delivered to your inbox!