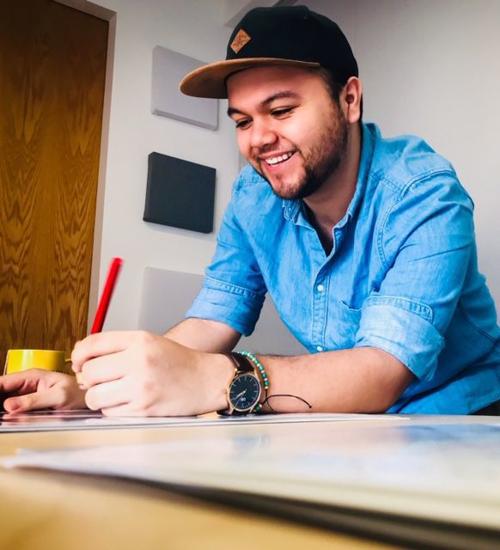 Take a look at Dominic Grijalva's photos on social media and you'll see him posing with one of musical theater's biggest stars, Lin-Manuel Miranda.
You heard right, the genius behind "Hamilton" sharing a photo op with our kid from Selma. In New York, Grijalva's new home.
I bring this up for a couple of reasons. One, Grijalva returned to Selma recently to help set up the projection art for the musical "Be More Chill." He works on many of the Selma Arts Center productions, but it was his first time back in his hometown since moving to the East Coast in the summer of 2018.
Second, we all need to hear his story: Small-town kid — one of ours — pursuing his dream in America's largest city.
We all have children who grew up in Selma, who went to schools here, then followed their careers away from here. Unless they become famous, or stay in the area, or you are family or friend, you often don't hear their life stories.
Were they successful? Did they achieve their goals and dreams? Do they have families and careers that they love?
Allow me to give a rundown on Dominic Grijalva, Selma High class of 2009.
He loves theater and graphic arts. In fact, he is a whiz at graphic design. I knew that because he was a star pupil of my daughter Rusty, who teaches graphic design at Fresno State.
Grijalva was nearly finished with his degree, dreaming of a career in the New York theater industry, when he learned about a job opportunity as design manager for the Stage Directors and Choreographers Society, a trade union for stage directors and choreographers.
So now the kid from Selma is starting to realize his dream of working in New York Theater. That dream got a head start three years ago when he teamed with Miranda to produce t-shirts for the Pulitzer, Tony, Grammy and Emmy award-winning composer, actor, lyricist, playwright and producer.
That multi-talented description fits Grijalva, as well, for his work as an actor, acting coach, design director and director in local theater for the past 10 years.
The photo on Grijalva's social media pages was taken in Miranda's dressing room in 2016 during a showing of "Hamilton." Grijalva said they discussed the marketing of the shirts, which feature visual references to Miranda's popular work such as "Hamilton" and "In the Heights. (Grijalva was director for the Selma Arts Center production of "In the Heights" in 2015.)
In his current job, Grijalva handles design projects for the Stage Directors and Choreographers Society, including creating an ad that ran in the program for the Tony Awards. He also keeps up the union's social media presence and designs the society's quarterly magazine.
This month he added his design flair to "Be More Chill," which ended its run last weekend at the Selma Arts Center. The job called for flashy, sci-fi graphics with a circuit-board look projected open the walls of the set.
"We appreciate him, he is a a great team member," said Nicolette Andersen, Selma Arts Center coordinator. "We love having him on our promotional team and also bringing new ideas and people, with his connections."
"His work is tailored to our productions, and that is definitely a luxury to us."
Grijalva is now back home in New York, joining a cadre of Fresno County theater folk that includes a couple of award winners, Audra McDonald and Heidi Blickenstaff, who started their theater careers at Fresno's Good Company Players.
Grijalva said dropping those names demonstrates the theater talent that comes from Fresno County. "I'm proud of being from Fresno County," he said, "There's so much talent and spirit in the theater community, such a wonderful concentrated group of talented people."
And our kid from Selma/Fresno State is making his name known as one of that group. He already has realized his dream of working in New York theater, so his dreams are just getting bigger.
"I would really like to be be designing projections for shows [in New York]," he said. "I'd like to audition, and try my hand at direction."
But he understands that, at this place and time, design is his calling card.
"I dream of being a free-lance designer," he said. "Be my own boss in the greatest city in the world."
Dream on, dude. The world is your Big Apple.
(Longtime Selma resident Ken Robison is a retired newspaper reporter, editor, columnist and photographer. Selma Stories runs regularly in the Enterprise..)
Catch the latest in Opinion
Get opinion pieces, letters and editorials sent directly to your inbox weekly!