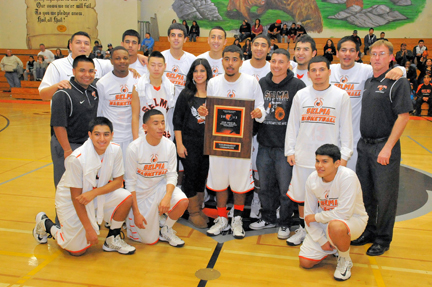 The Lujan family and Selma High School basketball will present the second annual Jesse Lujan Memorial Basketball Tournament Jan. 8-11 at Selma High School.
The tournament will showcase 16 teams from around the Valley — Centennial (Bakersfield), Yosemite, Madera South, McLane, Fresno, Caruthers, Sierra, Highland (Bakersfield), Fresno Christian, South (Bakersfield), Reedley, Kingsburg, Tulare Union, Mendota, Washington Union and Selma high schools.
The bracket-style tournament will take place at Selma High School and Abraham Lincoln Middle School for the first three days of the tournament. The final day's games will be played at Selma High School, with the championship game played at 8 p.m. Jan. 11.
You have free articles remaining.
The cost of the tournament is $5 and $3 for children and students with a school ID. All proceeds from the event will go to the Jesse Lujan Memorial Scholarship fund and SHS boys basketball.
The tournament kicks off at Selma High School on Jan. 8 at 2 p.m. when Fresno Christian High School faces South (Bakersfield). Madera South takes on McLane High School at 4 p.m., while Kingsburg faces Tulare Union at 6 p.m. The final game of the night at Selma High School will be the Selma Bears vs. Reedley High School.
Kicking off the first day at Abraham Lincoln School will be the game between Centennial (Bakersfield) and Yosemite at 1:45 p.m. That game will be followed by Mendota High School facing Washington Union at 3:30 p.m. Fresno High School faces Caruthers at 5:15, before Sierra High School facing Highland (Bakersfield) closes out the first day of the tournament at the middle school.
The Selma Bears won the inaugural tournament last season.
"He is gone but never forgotten," said Selma High basketball coach Mike Pallesi of Lujan before the inaugural tournament. "He is in our hearts. He left a lasting impression on everyone of what a fierce competitor he was. For us to have a tournament in his name, I hope it's not too emotional, but it is something that we are doing to uphold his memory."