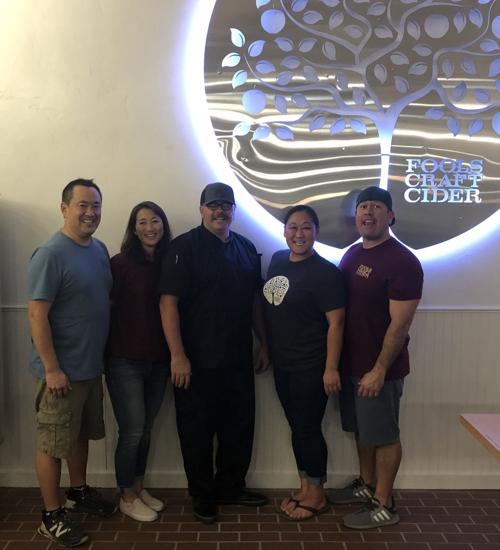 KINGSBURG — With local businesses starting to regain their footing before the holiday season, there is a huge need to find local restaurants and food venues offering a wide variety to the valley's flavor  pallet.
Fool's Craft Cider — a recently opened business venture — is one such location offering south valley residents some different and yet so deliciously familiar.
Fools Craft Cider is a local cidery located on Draper Street, right in the heart of Kingsburg's historic downtown.  Situated at the back of the Village Mall across from Fugazzis, the cidery serves up crisp and refreshing hard cider made in house.
"We have been working on this for the last six months," said Village Mall owner Sherman Dix.  "They [Fool's Craft Cider] are the kind of tenants we've been looking for and I think they'll be a great addition to the community."
The business was started by friends Sho Higuchi and Don Calhoun.  What started as a hobby for fans of the beverage became an inspiration for a  potentially successful adventure.  The brewery is a bonded winery that keeps between three and four main brews on tap at any given time with plans to add seasonal blends.
Speaking of expansion, Fool's Craft Cider is looking to add a food menu.  On Sunday, Oct. 18 the establishment hosted a VIP/Invitation-Only soft open event to showcase possible options.  Offering a Prix Fixe menu for the evening, invitees had their choice of gourmet grilled sausages, Crispy Crowns (specialized tater tots) with a variety of sauce options and a glass of cider.
The food was planned and prepared by in-house chef Joe McCracken.
A particular favorite is the Triple B Brat — a bratwurst on a Hawaiian Sweet Roll topped with grilled balsamic red onions, blue cheese ranch, and bacon crumbles.  Paired with their Sexy Six cider, a fifty-fifty blend of Granny Smith and Fuji apples, the food was a flavor explosion extravaganza.
The cidery is looking to find a way to make their establishment more family friendly.
"We don't want to just be a bar," said Calhoun.  "We want to be a place where people want to dine."
There is definitely a drive to make the location family-friendly as well as accessible to teens looking for a place to grab a bite with their friends while still being a destination for cider aficionados in the south valley.
Once this family-run business gets its food-making groove, Fool's Craft Cider will definitely be a great destination stop that is sure bring more vitality to Kingsburg's downtown.  The service is top shelf, the camaraderie offer's a Cheers-like vibe, and the food and cider prices won't break the bank.
Be the first to know
Get local news delivered to your inbox!