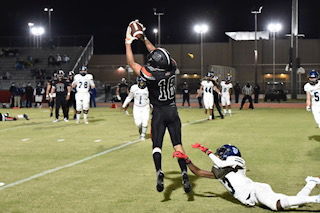 In the early going, it looked as if the Bullard Knights would turn the first game at the new Staley Stadium into a laugher.
But the never say die Selma Bears to drop a 46-31 non-league decision to the Division 1 Bullard squad.
The Knights jumped out to a 22-7 lead, recording two Bryce Weiner touchdown passes. But the Bears battled back. Workhorse running back Aaron Olivares, who finished with 86 yards on 26 carries, scored from a yard five plays after Aaron Moreno took the ball away from a Bullard ball carrier and sprinted 48 yards to the Bullard 22.
But sophomore Jordan Stewart returned the ensuing kickoff 87 yards for a touchdown to briefly take away the Bears momentum. A holding penalty erased an Olivares touchdown reception from Joey Ramirez but Oswaldo Landin came on to kick a 25-yard field goal at the halftime horn to cut it to 22-10.
In the first 4:29 of the third quarter, Selma completed the comeback with a pair of scoring passes to Aaron Blancas, who finished with eight catches for 104 yards before being bothered by an apparent leg injury.
A short touchdown run by Ramirez and a two-point conversion pass to Blancas gave the Bears their last lead with 5:35 left in the game.
The eventual winning touchdown came with just under four minutes remaining on a 30-yard scoring pass from Weiner to Daizon Allen.
An inadvertent whistle allowed Selma to get the ball back after a fumble on the ensuing kickoff. But Ramirez was intercepted on the next play. Four plays later, Jaden Sheets scored to put the game out of reach.
'We shot ourselves in the foot," said Bear head coach Matt Logue after the game. 'We had a chance, I think we could have been up at halftime. The two kickoff returns and the fumbles. We have some senior guys that made some mistakes early. I don't expect them because of the group we have but with everything going on, the starting and stopping. Plus the way we had to practice Monday and Tuesday of this week. I guess you've got to kinda expect those things.'
Logue knows that this edition of the Bears is a good veteran team. 'You can't say enough about our kids the way they battled and came back in the second half. I thought the field goal was big before halftime to give us a little momentum and then we came out and scored on the first drive of the second half.'
The Selma head coach thought that the Bears moved the ball pretty well. They finished with 288 net yards of offense and almost ran twice the number of plays than Bullard. There were a couple timely mistakes and turnovers. The Bears had trouble stopping Jaden Sheets, who wasn't even listed on the roster. Sheets finished with 114 yards on 13 carries and two touchdowns.
'I'm proud of our kids,' said Logue. 'As anyone who was here saw guys going down, left and right. Most of our kids go both ways. By no means do I want to sound like excuses but it's tough when you've got three guys out that's like six starters. It is what it is but I can't say enough of how proud I am of our guys of how hard they played and how they fought back from a 22-7 deficit."
Roundup
After a break of 377 days, Selma High School officially returned to the baseball diamond on Monday, March 22.
Liberty of Madera Ranchos rallied in the final two innings to record a 3-1 victory over the Bears at Allen Cropsey Diamond at Bobby Cox Field.
On Wednesday, March 24, Selma returned to the diamond to face the Firebaugh Eagles. Similar to Monday's game, Firebaugh rallied late to record a 3-2 victory dropping the Bears to 0-2.
In non-COVID years, Wednesday would be the final day of the Greater Kiwanis Easter Tournament. Instead, the only game of the week had the Bears hosting Madera South on Monday in a game played after press time.
Instead, the Bears will host Kerman under the lights at Allen Cropsey Diamond at Bobby Cox field at 6:30 p.m. on March 31.
After dominating in a scrimmage with Washington Union, the Lady Bears softball team officially opened the 2021 season with a March 30 (after press time) against the Reedley Pirates at Duran Diamond.
This week, Coach Chris Tapia's squad is scheduled to travel to Kerman on March 31 and to McLane on April 2.
After narrowly missing their first win of the season on March 23, the Selma High School girls tennis team came back two days later and shut out Hanford West 9-0 in a Central Sequoia League match in Hanford.
The March 21 match at home with Dinuba was decided by the first doubles match, won by the Emperors by an 8-3 score.
Against Hanford West, the Bears recorded 6-0, 6-0 wins by Dashrit Pandher in first singles and Anahi Soto in third singles. Other winners included Chloe Mendoza, Emily Leanos, Susie Correa, Oriana Espiritu, along with the doubles teams of Pandher-Mendoza, Soto-Espiritu and Esmeralda Garibay-Denise Valenzuela.
The Selma boys lost to Dinuba 6-3 and to Hanford West 5-4.
On March 23 in Selma, the Lady Bear swimmers continued to stay hot with a 104-74 win over Madera while the Selma boys fell to the Coyotes 110-54.
Junior Abi Baker and senior Juliana Colado were part of four wins for Selma. They both combined with sophomore Makaira Chavez and senior Vanessa Mares to win the 200 yard medley relay in 2:03.38.
Freshman Alexis Viveros joined Colado, Baker and Mares to win the 400 yard freestyle relay in 4:06.52. Baker took firsts in the 500 free (5:44.70) and the 100 back (1:03.91) while Colado won the 100 free in 58.39 and the 50 free in 26.48.
Be the first to know
Get local news delivered to your inbox!