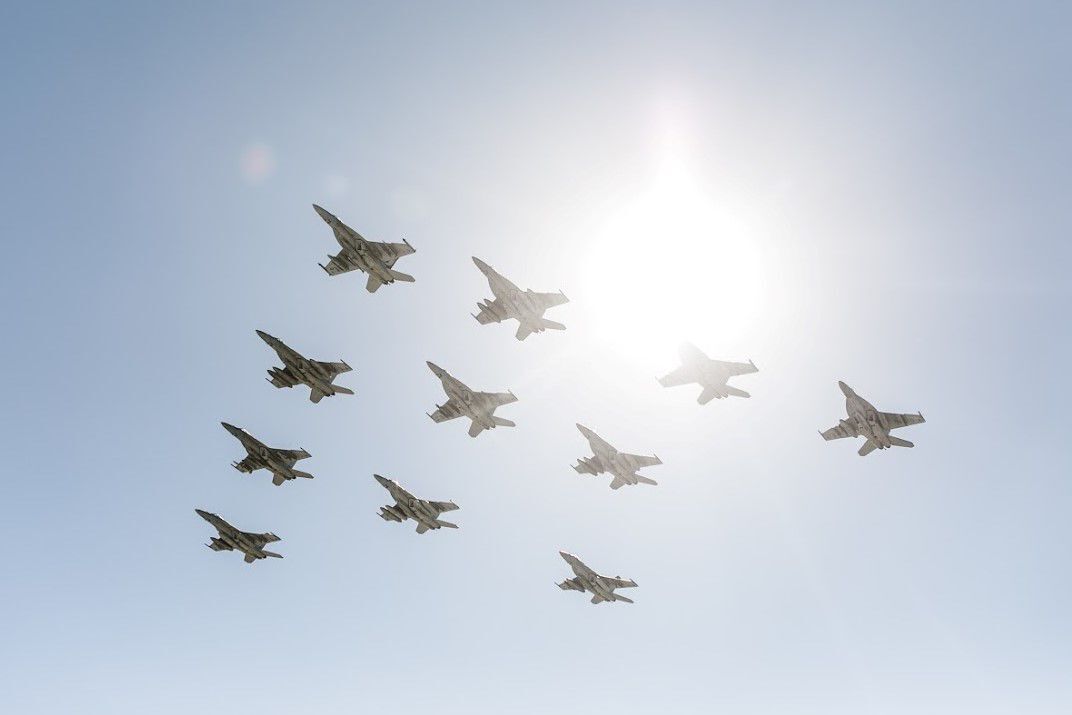 LEMOORE NAS — Strike Fighter Squadron (VFA) 137 returned home to Naval Air Station Lemoore, Calif. on the Feb. 26 following a record-breaking deployment. 
The squadron was among the more than 5,000 Sailors and Marines assigned to the Nimitz Carrier Strike Group (NIMCSG) to return after nearly 11 months deployed in the U.S. 5th and 7th Fleet areas of operation. NIMCSG was the first carrier strike group to embark on a deployment for the U.S. Navy after the onset of the COVID-19 pandemic. The strike group was comprised of Carrier Strike Group (CSG) 11, aircraft carrier USS Nimitz (CVN 68), embarked Carrier Air Wing (CVW) 17, Destroyer Squadron 9, Ticonderoga-class guided-missile cruiser USS Princeton (CG 59) and Arleigh Burke-class guided-missile destroyer USS Sterett (DDG 104).
"I could not be more proud of this team, and everything they were able to accomplish," said VFA 137 Commanding Officer Cmdr. Nicholas Saunders. "The pride and professionalism demonstrated by every member of this squadron is what made this deployment a success."
VFA 137 and Carrier Air Wing 17 (CVW 17) departed San Diego and soon entered the U.S. 7th Fleet area of operations where they conducted freedom of navigation operations throughout the South China Sea and executed dual-carrier operations with both USS Theodore Roosevelt (CVN 71) and USS Ronald Reagan (CVN 76). Once entering the U.S. 5th Fleet area of operations, VFA 137 began flying combat missions over Afghanistan in support of Operations "Freedom's Sentinel" and "Resolute Support."
 Additionally, VFA 137 conducted combat missions in Iraq and Eastern Syria in support of Operation Inherent Resolve, as well as missions with the Indian Navy, Japanese Maritime Self Defense Force, and Royal Australian Navy during the multi-national Malabar 2020 exercise. 
After the completion of these multi-national operations, VFA 137 resumed operations in the U.S. 5th Fleet, which included providing support to U.S. Africa Command during Operation "Octave Quartz."  
Over the course of the deployment, VFA 137 flew more than 2,163 sorties totaling over 4,117 flight hours, and successfully executed over 112 combat sorties.  VFA 137's pilots won the "Top Hook" Award for the 7th consecutive time and the 4th consecutive time in CVW 17, leaving them undefeated since joining the air wing. 
Be the first to know
Get local news delivered to your inbox!