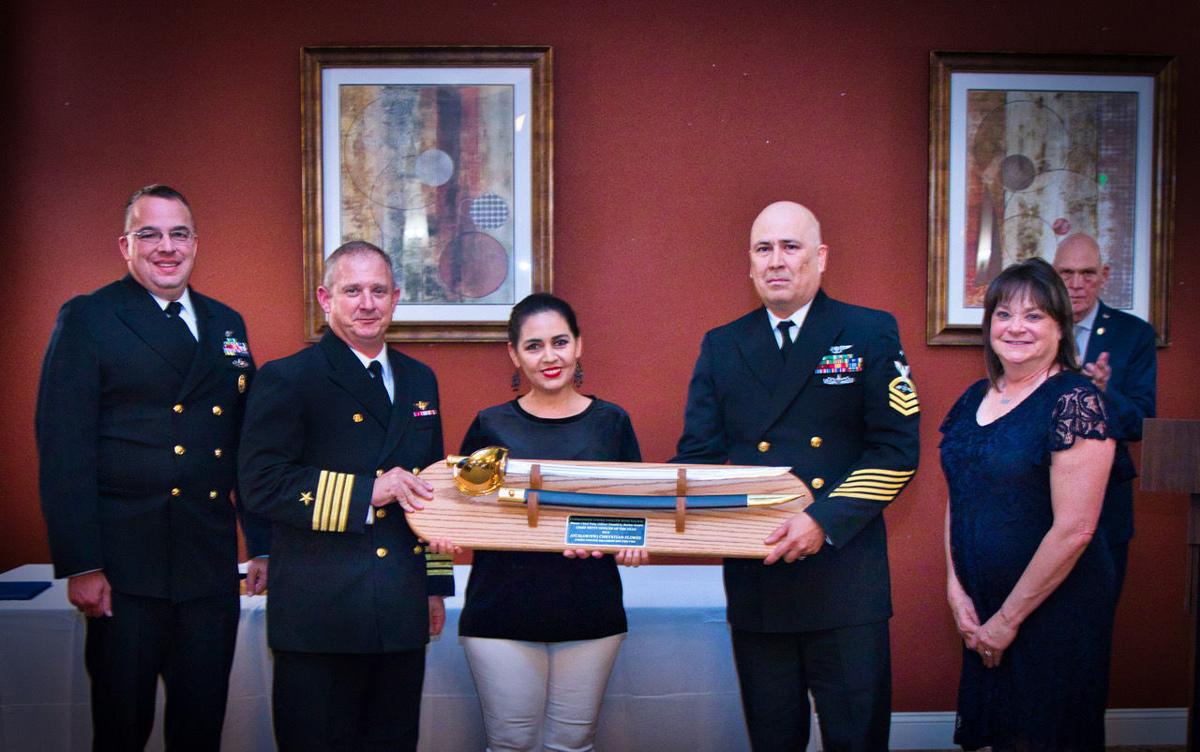 NAVAL AIR STATION LEMOORE (November 07, 2019) – Commander, Strike Fighter Wing U.S. Pacific Fleet (CSFWP) and Commander Joint Strike Fighter Wing (CJSFW) hosted the 19th Annual Don Barber Award Presentation aboard NAS Lemoore. Award nominees from Fleet Readiness Center-West (FRC-W) and both F/A-18E/F Super Hornet and F-35C Lightning II squadrons were recognized and celebrated prior to the announcement of the winner at the annual dinner.
The Don Barber award recognizes superior leadership as embodied in the career of the late Master Chief Donald E. Barber. Since 2001, the Association of Naval Aviation and Greater Kings County Navy League, along with CSFWP and just recently CJSFW, present the annual award to an outstanding NAS Lemoore flight line chief petty officer who demonstrates inspirational leadership, innovative contributions, a "lead-from-the-front" mindset and on-the-job adaptiveness.
Master Chief Petty Officer Donald E. Barber was assigned to VA-122 from March, 1965 through October 1968. After more than 33 years of honorable military service, known for his consummate professionalism, groundbreaking problem-solving skills and lead-from-the-front leadership style, he retired in 1980. Although he retired from active duty service, his contributions to the NAS Lemoore flight line did not stop. From 1980-1988, Barber worked to bring the F/A-18 Hornet to NAS Lemoore before transitioning to Civil Service and working on the NAS flight line until 1998. During his time in the Navy, his awards included the Navy Commendation medal, Navy Achievement medal, Good Conduct medal (6), National Defense Service medal, Armed Forces Expeditionary medal, Vietnam Service medal and Sea Service Deployment Ribbon.
The Donald E. Barber award is presented to eligible candidates who best personify the positive leadership attributes associated with Barber. Nominees for the award must be active duty, senior enlisted personnel and assigned to a command within CSFWP, CJSFW or NAS Lemoore. Each of those commands nominate a Sailor who meets the award criteria and best resembles the leadership qualities exemplified by Barber. The winner is selected by a panel composed of command master chiefs and maintenance master chiefs from across the NAS Lemoore flight line.
"My dad's history with the flight line at Lemoore goes back quite a while. He invested a lot of time and energy into making it something truly special. When the award committee was starting this award, my dad was unanimously selected to have the award named after him," said Kelly Virden, Don Barber's daughter. "This award originated between 1999 and 2000, right after my dad passed in June of 1999. Although I'm sure he would be humbled by having this award named after him he would also be pleased that his legacy and dedication to the Naval Aviation community continue through this award. He would always say, 'A job worth doing is worth doing right.' I believe that is at the heart of this award."
This year's winner, ATCS Crystian R. Flores Strike Fighter Squadron 122 (VFA-122) "Flying Eagles" was recognized for his superb leadership, innovative contributions and flexibility coupled with his ability to inspire maximum performance from hi Sailors, displaying mastery in the ability to stay ahead of fast-paced operations and effectively handle any matter.
"I'm not certain that I did anything out of the ordinary. It's a team effort" said Flores. "When you have a job to do, you motivate your team and we come up with creative ways to get the job done. At the end of the day, that is what it comes down to. Can we get the job done? When push comes to shove, we're going to do what it takes to get safe aircraft up and flying because that is our mission. It's what we do and who we are as maintainers on this flight line."
During his time at VFA-122, Flores has led a maintenance department of more than 700 personnel in 16 work centers. His team completed nearly 120, 700 maintenance actions encompassing 370,288 man-hours that led to the safe execution of more than 10,260 flight hours.
"Prior to the creation of the Don Barber award, the San Joaquin Valley Squadron Association of Naval Aviation had already established awards for maintenance officers and line officers, but we wanted to present an award that recognized excellence in leadership at the deck plate level...it is a critical position for this flight line," said Len Giuliani, president of the San Joaquin Valley Squadron Association of Naval Aviation. "We understand that, like all the awards we give, they are leadership tools. They are intended to motivate and inspire Sailors while at the same time recognize top performers among their peers. It is fitting that an award for leadership be given in Don Barber's honor."
This year is the 19th presentation of the Don Barber award here at NAS Lemoore. For more information about the Association of Naval Aviation, visit www.anahq.org.
Be the first to know
Get local news delivered to your inbox!