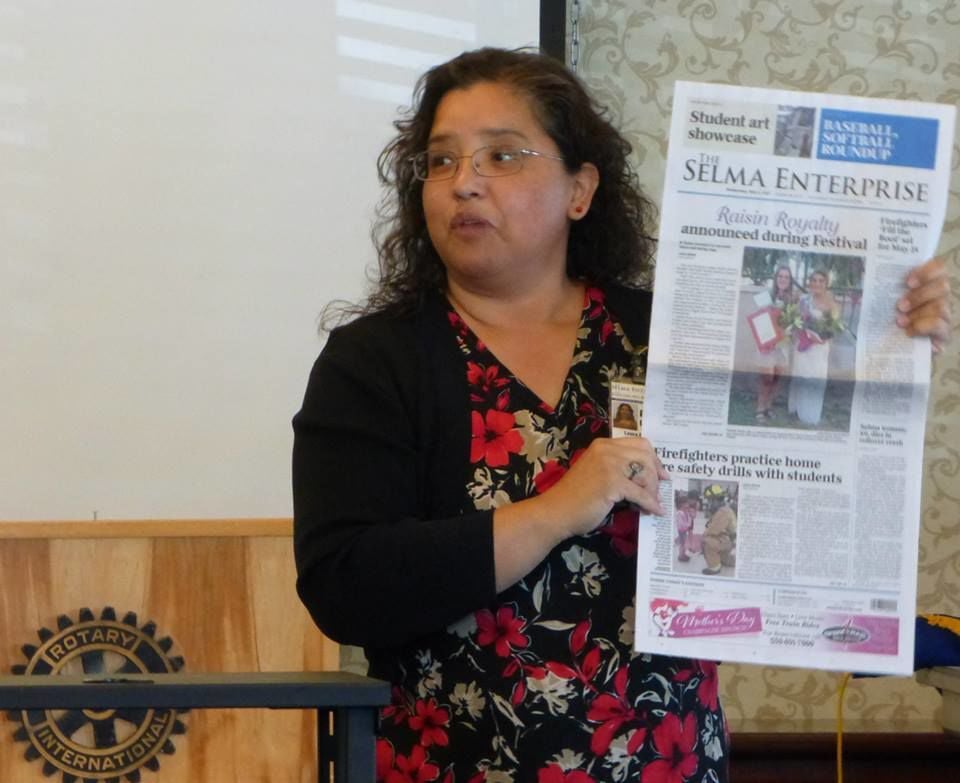 It's been a good six years. With the onset on the tanking economy, budget cuts must be made to keep the doors of our weekly newspaper open. This is a business, after all, and COVID is being pretty brutal on the bottom line.
Thus, this was my last week at the Selma Enterprise – Kingsburg Recorder.
I have to thank my former Visalia Times Delta editor Linda Green for remembering me when there was an opening here. I had the pleasure of working with my empowering editor Jenny McGill and then others who respected me enough to know I'd get the work done, and then some, to take photographs, attend all kinds of community functions, write stories and even cover sports when needed, create graphics and take newspapers out to sweet elderly readers who just could not get to the office to deal with circulation matters.
If a parent wanted 10 extra copies of the paper because their child was in that week's edition, but couldn't come over because the baby was sleeping, I'd drop them off at the end of my shift.
On a small weekly, you wear many hats.
I've been a reporter since seventh grade where I started on the yearbook and newspaper class at Alice G. Mulcahy in Tulare. I enjoyed serving as the conduit of information working on my high school, junior college, university newspapers and freelancing before landing my first job at the Times Delta.
I've covered education and reported on how federal laws, made by those who've never stepped foot in a public classroom, trickle down to create chaos in your local schools.
I've covered the joy and exuberance of high school graduations.
I've been on the scene of drive-bys, watching the departed be whisked as way as distraught relatives cried in agony on the roadside.
I reported on the uniquely Selma and Kingsburg festivals where the Sikh, Mexican American, Armenian and Swedish cultures are celebrated with food, music, dance, family and sometimes religious ceremonies. Raisin Festival Queens? Swedish Festival Queens? What fun to introduce these sweethearts, and once a potential King, to their respective communities.
There have been some hard decisions made by your local governing officials in their attempts to meet so many needs of each town on fluctuating budgets. They're trying to deal with crime, grow the economy, enrich quality of life, and now conquer the COVID-19 pandemic. Did they spend taxpayer funds well? You be the judge and act accordingly. I'm just the reporter.
I've always had lofty goals for my profession. I want to empower readers with the facts to be more involved in each town. See a need – homelessness, vandalism, gangs, falling literacy – and step up to be part of the solution. That takes an informed citizenry because, as the expression goes, it takes an informed citizenry to make informed decisions.
Right around the corner are local elections that will determine not only who will be elected, but how. The 2020 Census may change the boundaries of the districts for the school boards, city councils and health care boards. What is the motivation behind how those boundaries are drawn?
Some of my stories may not have been favorably received when community members were asking for school superintendents to be removed, for board members to be recalled, for inquiries to be made into how their tax dollars were spent or what was motivating council members to vote a certain way.
My job is not to make people happy. It is to report what is going on in each community, whether I like it or not. I am not the news. My opinion is not what matters. If I reported on my perspective, it'd be 12 pages of cats, my garden and more cats. Instead, I was always thinking, what does the community need to know right now?
Ever since I was 13 … almost four decades ago … I was taught that journalism's role was to comfort the afflicted and afflict the comfortable.
As society grapples with the harsh reality that is racism, it is not my job to turn away from evidence that it exists in Selma and Kingsburg. If you have not experienced it, and don't want to acknowledge the current world-wide effort to address it, then I cannot fathom how blind you can be.
I'd be failing in my role as a journalist if I did what was easier and did not make waves.
Some of you have written you are 'disappointed with me.'
Let me reiterate, I am not here to make you happy. I'm here to report what is. In my life, my personal goal is to make my God and my mom happy. They are both pleased I stood up to call out when the oppressed continued to be belittled, and now ignored.
For those of you calling for my job, well COVID beat you to it.
But as I face a possible diagnosis of breast cancer, now without health insurance, I face the risk of dying from that without medical coverage. Will the current president have his way and get rid of what health programs are even available? Or will he rule that pre-existing conditions won't be covered?
With the contagiousness of COVID, I now risk catching it as I'm forced to find another career that will expose me to more people who think their "right" to not mask up takes precedence over life – mine included.
I may bring COVID back to my best friend forever who is only now recuperating from his own cancer treatment, possibly caused by Agent Orange when he served in Vietnam. There's much talk of respecting Veterans, but when it comes to citizens showing them respect by using face coverings, I'm the one who is sorely disappointed by the outrageous failure of too many who are refusing to respect life.
If you are 'disappointed' that I shined a light on the perpetuation of racist and homophobic slurs, then frankly, I believe I am doing my job.
I am not a public relations writer here to put a spin on anything to make it sparkly and pretty. I am reporter. If the reality is harsh, then what is your community going to do to fix that?
There are countless people private messaging me, afraid to speak up out of fear for either their children or their businesses. Does that sound like an atmosphere in which there is no racism or homophobia?
BRAVO to all those with enough bold determination to make their towns safer for everyone by saying "NO MAS!" Because yes, as the daughter of a long line of hard-working field laborers, I REFUSE to remain silent when I see people in my heritage, or any other oppressed community, laughed at or abused in any way by the current system. I am NOT anti-police. I am pro decent human behavior.
I have to quote my highest source from His word at Acts 10: 34-35 where it's written, "At this Peter began to speak, and he said: 'Now I truly understand that God is not partial, but in every nation the man who fears him and does what is right is acceptable to him.'"
So if God is not partial, why are you? Why is any group of people the butt of your jokes?
I hope as time goes on, residents of Selma and Kingsburg continue to grow, ask hard questions of themselves, of their leaders and expect better. It is way past time.
I wish all the best to my co-workers, editors and fellow reporters who are doing their absolute best to cover education, crime, city councils and civic functions all while juggling everything it takes to create a newspaper and websites – regardless of their actual title - as we work on furloughed hours and more and more cuts are made in journalism all across the state, nation and world.
I've read that God's will for humanity is for them to come to accurate knowledge of truth (1 Tim. 2:4). The truth is not comfortable and it is not easy to tell, yet that has been my job for nearly four decades. I will not bend over now when it matters most to please any human on Earth. I live to please God and give respect. The truth is what I will continue to seek.
For all those with any future story ideas and information for your community newspaper, please contact Editor Parker Bowman at pbowman@hanfordsentinel.com or call 583-2432.
Be the first to know
Get local news delivered to your inbox!