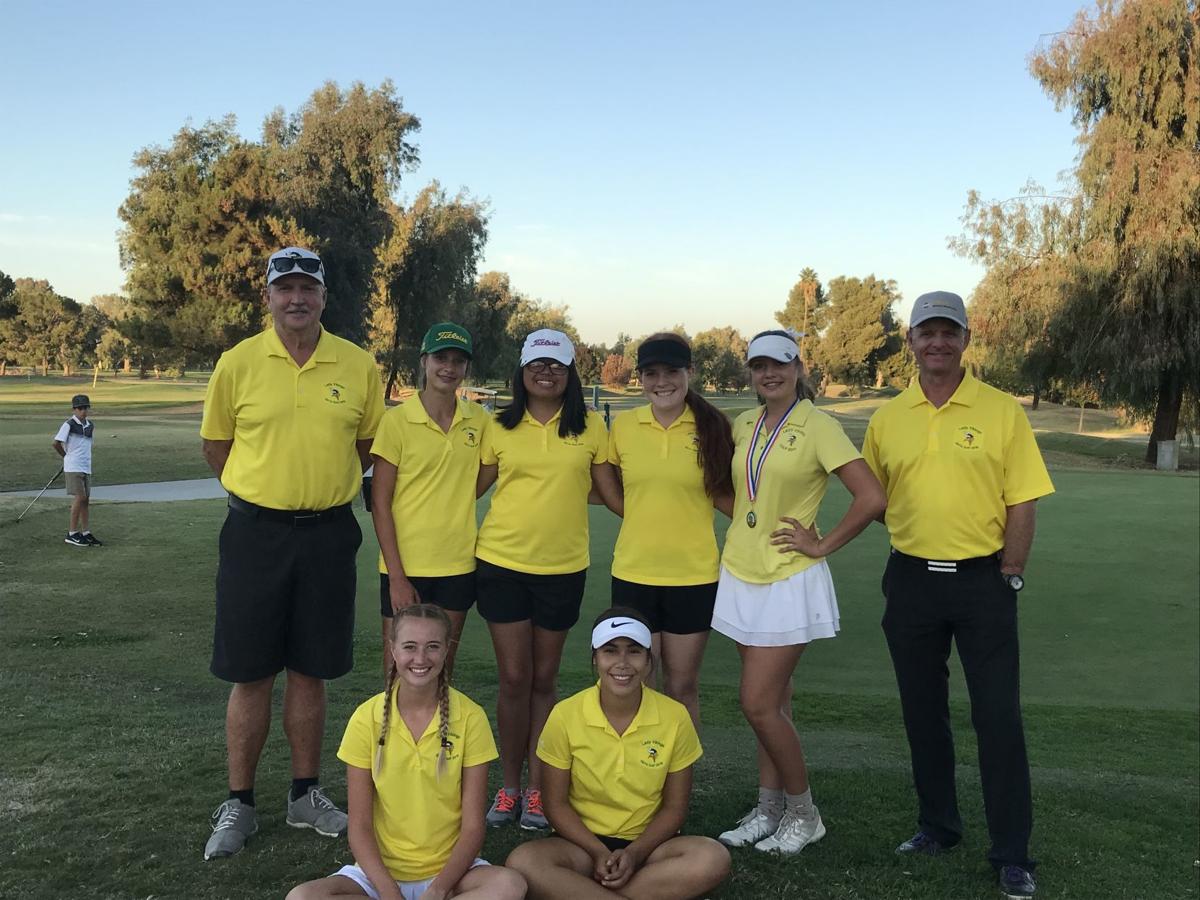 KINGSBURG - The Kingsburg girls golf team claimed the 2019 Central Sequoia League championship after a first place finish at the league finals at the Lemoore Golf Course on Tuesday, Oct. 22.
The Vikings scored 252 stableford points to secure the title and had a 20-point margin of victory over second place finisher Central Valley Chrisitian (232). It's the program's first league championship since 2016.
Kingsburg coach Bill Jensen said the league title was a team effort and his squad's depth and consistency were two factors that led to a league-winning season.
"Our fifth and sixth players deliver a lot more points than the other teams," Jensen said. "That's what made the big difference all year long."
The Vikings also qualified for the Central Section Division II tournament after recording a stroke score of 483. The qualifying score to move on was 525.
In seven CSL tournaments this season, Kingsburg came out on top in five of them. In the two times they didn't finish in first, the Vikings placed second to CVC.
"If somebody had a bad day, we could still win because the other people picked up for them," Jensen said.
As the season went on, the expectations grew higher after each tournament. Kingsburg won the first CSL-mini tournament with a score of 104 points and were two points away from winning the second tourney. After being edged out in the second tournament, the Vikings bounced back by placing first with a score of 265 points and having a 16-point margin of victory over the Cavaliers.
After the third tournament, Jensen said that was the moment his team were contenders for the league championship.
"I realized that we're going to be right there, we just have to do it," Jensen said. "It's going to be close, but there's no reason that we shouldn't win."
At the CSL finals, Kingsburg No. 1 golfer Morgan Oehlschlaeger led the way with a finish of 59 points, followed by a score of 50 from Lauren Diener and 49 from Rien Torres. Diener and Torres competed in the No. 2 group at the tournament. Vikings No. 3 golfer Jillian Sasaki scored 44 points while Emma Harris finished with 50, and Jordyn Maxfield had a score of 44. Harris and Maxfield competed in the No. 4 group.
Oehlschlaeger, a junior, finished second in the individual rankings with a net total of 240 points. She placed second behind Immanuel's Karis Haltom, who finished with 301 points. Heading into the finals, Oehlschlaeger was in third in the individual standings.
Jensen said Oehlschlager is a good leader and sets a good example for her teammates.
"We got exactly what we expected this year and we're looking forward to great things from her next year," Jensen said about Oehlschlager.
Oehlschlaeger is one of four golfers that is slated to return next year. Diener, Torres, and Harris are other notable returners for next season. Sasaki and Maxfield were the only two seniors in Kingsburg's top six this year
The Vikings last competed at the Division II tournament at the Valley Oaks Golf Course in Visalia on Monday (after press time).
Be the first to know
Get local news delivered to your inbox!