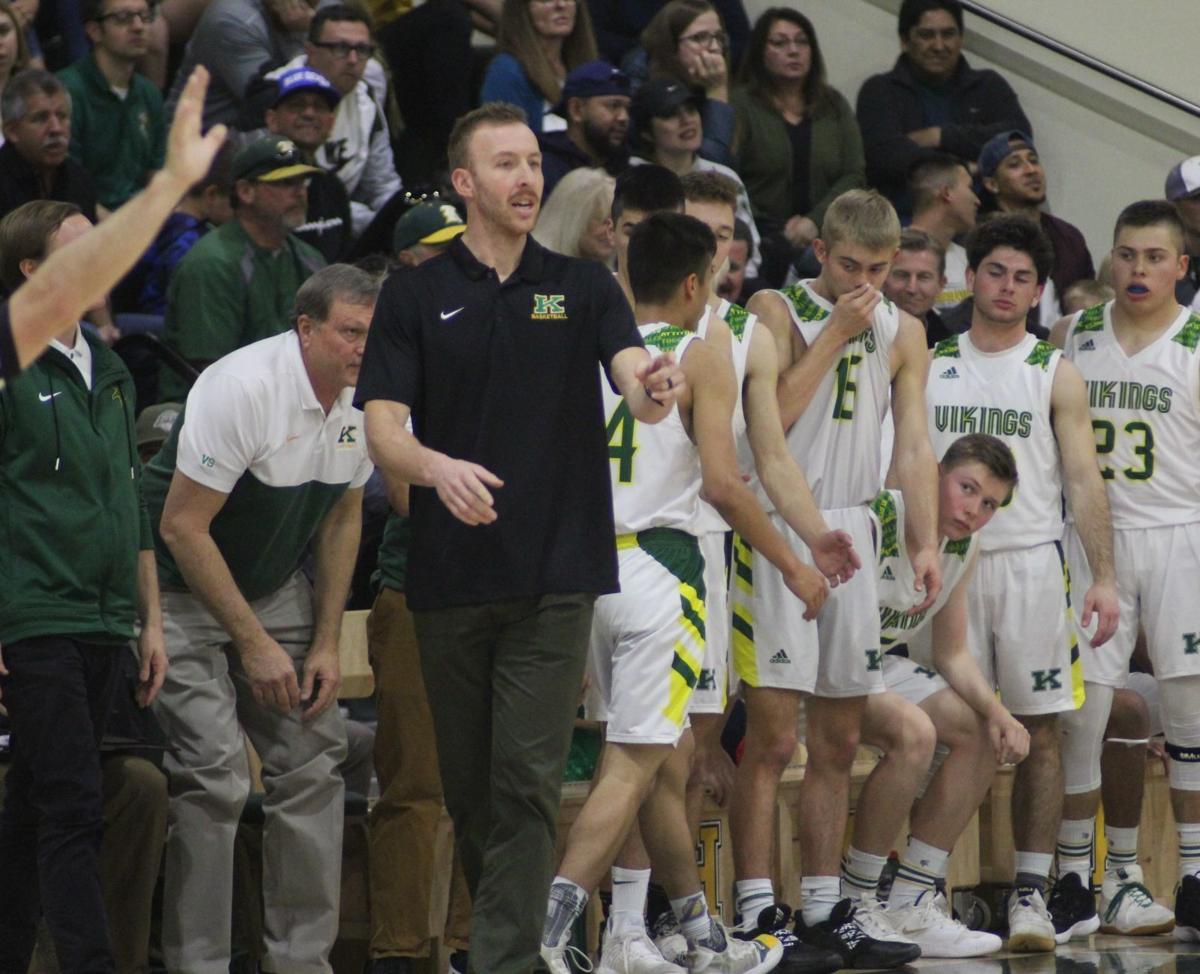 KINGSBURG - After leading Kingsburg to a historic season, Todd Brown made the decision to resign as head coach in March.
"It was one of the hardest decisions that I ever had to make," Brown said.
The main reason for Brown resigning was he wanted to put more focus on his family, as the majority of his mental energy would be spent on basketball throughout the year.
"I'll come from practice and even though you're physically home, you're thinking about 'Oh man, that play for Nate [Towsley] is really going to work,'" Brown said. "With the ages of my kids, real important years for them, development wise, I felt a lot of peace actually with the decision to step down to have more time and energy to be spent on my family."
Brown said he'll continue to teach health and wellness at Kingsburg High and he didn't rule making a return to the sideline in the future.
"I could definitely see myself coaching again in the future, but it's not a move where I'm trying to get another coaching job," Brown said.
During his five-year tenure with the Vikings, Brown had a 74-72 overall record and was 22-32 in the Central Sequoia League. Kingsburg only had two losing seasons in the CSL under Brown.
Support from the administration and community made Brown cope easier with the decision. Brown admitted that it was tough telling his team.
"The hardest part was telling the returners. That was tough," Brown said. "It was tough telling the faculty at school, but with the peace I felt about it, it was kind of like pulling the band-aid off. I still feel 100% that it's the right decision for me at this time and the players were really understanding of it. They know my family. The administration and the players, they made the process a lot easier for me. I was scared to death to tell anybody just from the fact that I was letting people down, but they were all really supportive."
Kingsburg was Brown's first varsity coaching job.
Before coaching the Vikings, Brown was a standout for Fresno Pacific University and played one season professionally in Australia for the Geraldton Buccaneers of the State Basketball League. When he graduated from FPU in 2010, Brown left as the Sunbirds second all-time scorer (1,504) and fifth best rebounder (632). He started teaching at Kingsburg after his one-year stint in Australia.
Brown's final season at Kingsburg was a successful one, leading the Vikings to a Central Section Division IV title and a 27-5 (8-4 CSL) record during the 2019-20 campaign. Kingsburg defeated Delano 71-59 for the program's first Section title since 1956.
The program tied for the most wins and accomplished the best winning percentage in a single season. Kingsburg's previous best record was a 27-7 season in 2002-03. The Vikings last 20-win season was in 2005-06.
"It's a very tough job, but it's a very rewarding job," Brown said. "Winning a Valley title was awesome, but even on some of those teams where we weren't .500, there were some fun memories."
After Kingsburg broke its 64-year drought, the Vikings competed in the state playoffs for the first time in eight years. Kingsburg, a No. 7 seed, fell 66-53 to No. 10 seed Clear Lake in the first round of the CIF State Northern California Division IV playoffs on March 3.
Phil Bergstrom will take Brown's place as the new head coach, which will bring familiarity to the team. Bergstrom was on the varsity coaching staff during the past three seasons and has coached at the school for about 10 years, Brown said. Bergstrom is also a 2006 KHS graduate and played for a Section title with the Vikings during his senior year. That Kingsburg team finished as the Division IV runner-up.
Brown said he'll continue to support the program and Bergstrom from the stands.
"I know they're in great hands with Phil and I'm really excited to watch him coach," Brown said. "I know he's been waiting for this opportunity. I'm really pumped for him. I'm really excited for him."
Be the first to know
Get local news delivered to your inbox!