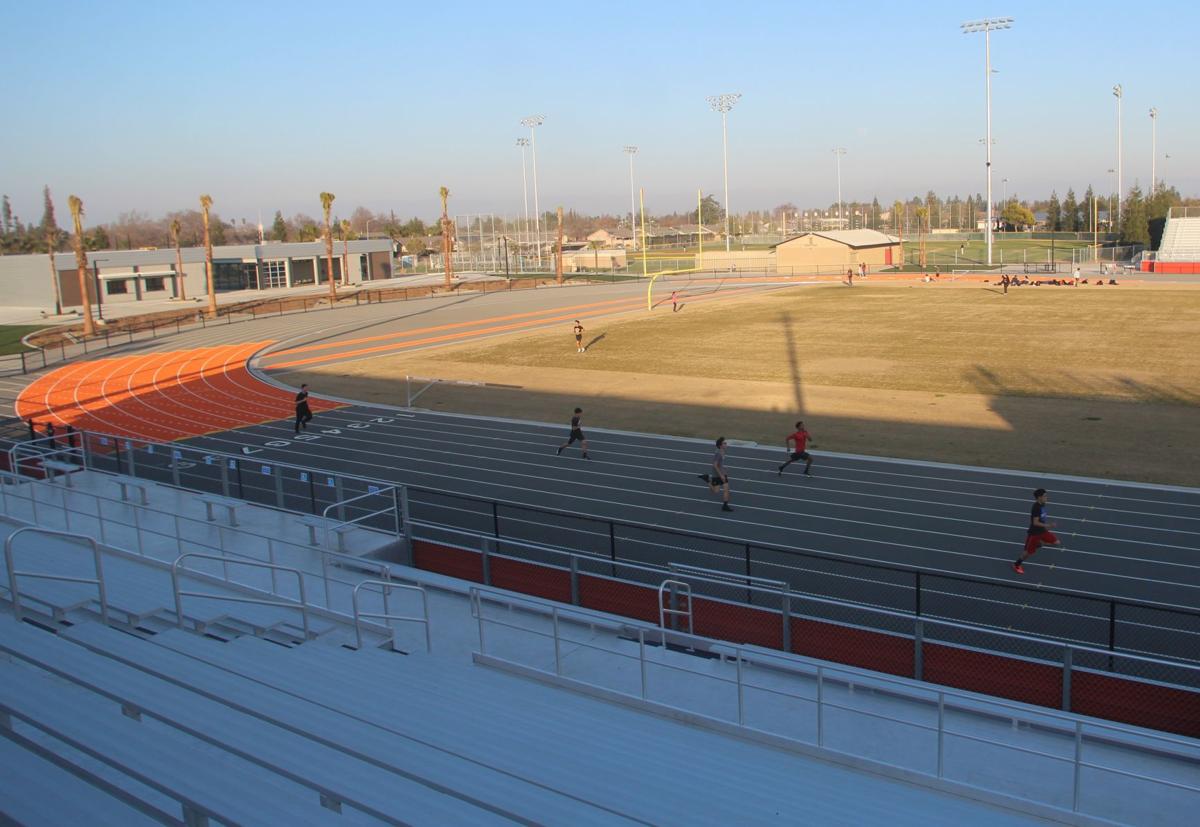 With schools closed due to the coronavirus pandemic, high school coaches haven't met with their players for over two weeks, as athletic events and practices are not allowed to be held for the same reason.
As people are trying to find normalcy in a life of no school and sports, coaches at Kingsburg and Selma high schools are still processing recent events and are adjusting to a daily routine that doesn't involve going to practice.
"It breaks my heart, I miss the girls," Vikings softball coach Randy Sieger said. "I miss the team, I miss competing, I miss all that."
Before its season came to a halt, a talented Kingsburg softball team was looking poised to make a run for a Central Sequoia League title along with competing for a Central Section Division I championship. The team got moved up to Division I prior to the season after claiming the D-II title last year.
The Vikings defeated Immanuel 24-0 in their last game on March 10.
Sieger believed his team potentially could've been a top-five squad in the Section.
"It's really sad, I thought we had a special team this year," Sieger said. "I really thought that we were able to make a run at the Division I championship. For a school of our size, that would've been a huge deal."
Majority of last year's team returned, as there were two seniors on last season's squad. This year's team has two seniors on the roster - Marissa Montelongo and Rylie Atherton.
Through seven games, Montelongo had four home runs, matching her total from last year, and was the cusp of breaking the program's all-time hits record of 149. If the season continues, Montelongo will be 31 hits away from setting the program's all-time mark. Montelongo will play softball and soccer at the next level for Saint Mary's College.
Atherton, a transfer from Central Valley Christian, was not eligible to suit up for the Vikings during the start of the season. As a Cavalier last season, Atherton threw four no hitters, seven complete-game shutouts and recorded a 0.89 ERA.
If the season continues, adding Atherton could provide a "1-2-3 punch" alongside returners Kayla Medrano and Mia Estrada, Sieger said.
Even if his team doesn't take the field again this season, Sieger's main concern is for everybody staying healthy during the pandemic.
"If we get out of this and everybody gets out healthy, we'll go on without a season of sports," Sieger said. "The main thing is everybody taking care of themselves and just being safe. It's not worth your health to play any sport and from me to say, it's a lot, because I love sports."
It was supposed to be a special season for the Selma track team, as the program was slated to host multiple meets at the newly renovated Staley Stadium.
The Bears had two high school meets on the schedule - the Selma High Invitational on March 20 and the Haskell Henson Invitational on April 24. Other meets that were supposed to take place at Selma High's new venue were the Rotary Elementary Meet (March 27), a league meet for Abraham Lincoln Middle School (April 23) and the Fresno County Meet (April 25).
With Selma Unified School District canceling school and athletic events until May 1, those events are not going to happen. Originally, SUSD canceled school until April 13. Before the district extended its closure, Bears coach Alex Reyes was optimistic that his team, especially the seniors, will have a chance to finish the season.
"I know one of my girls, she had scholarships on the line," Reyes said. "We were hoping to have a phenomenal season this year and get more interest and hopefully make the state meet."
If the track season does continue, Selma's next scheduled meet will be the CSL Championships at Kingsburg High on May 6. It's uncertain if that meet will happen if school resumes. 
"It just sucks for a lack of a better word," Reyes said about a potential canceled season. "For everyone, not just the track team, but for all the spring sports."
The Selma softball team was 4-4 before their season was interrupted. In their last game, the Bears scored a season-high 19 runs in a 19-0 win over CVC on March 10.
Before SUSD officially closed its schools, the Bears were scheduled to host Summerville, a Sac-Joaquin Section school, on March 13, but that game was canceled.
When the Exeter softball and baseball teams shut down their seasons a few days before SUSD canceled school, Bears coach Chris Tapia realized his team's 2020 campaign would be paused.
"That was the biggest eye opener for me," Tapia said. "I was like 'Holy crap, they're shutting down their whole season?"
The Bears had four seniors on the roster including Boise State signee Clarissa Moreno. If the rest of the season is canceled, Tapia said Moreno has more softball ahead of her, but he is more concerned about his other seniors possibly not having an ending to their high school careers.
"That's what saddens me the most is those seniors that they're not going to redo [their season]," Tapia said. "There's no redos and the juniors and the sophomores, yeah it'll be a lost season, but they/ll get a chance to have a finale, a closure."
"It's not necessarily a lack of a season, when you think about it, it's the lack of closure, the senior night...they never got to think about having those moments. That's what I think about the most."
Selma's next scheduled game is against rival Kingsburg at Duran Diamond on May 5. That game was originally scheduled as the regular season finale.
Tapia will be disappointed if his team doesn't return to the diamond, but he understands that the coronavirus is a public health concern, as he and his family have been following social distancing and shelter in place guidelines.
"We're following the rules," Tapia said. "We're staying home, we're staying away from people….we're going to get through this."
The Kingsburg boys tennis team started the season at 5-1 overall and were 2-1 in the CSL with its only loss coming against league opponent Immanuel. The Vikings had notable wins against Sierra Pacific and Reedley during its six-game stretch to begin the year.
This year's team consisted of many juniors and sophomores, a group Kingsburg coach Tom Gramza said that was improving after every match.
Caleb Campbell was the team's only senior and was undefeated before the season was stopped.
"I just feel so bad for him if we end up not having a season," Gramza said about Campbell. "As for the players, I'm super proud of them. They were playing pretty well, but just the willingness to get better and most of all their character. Win or lose, they were really classy. They were gracious winners and gracious losers. I'm just really proud of them as young men. They did a fantastic job."
The swimming coaches from Selma and Kingsburg high schools were both devastated for their kids, especially the seniors potentially having their careers end.
"My seniors were crying," Bears coach Harold Wood said. "I feel so bad for them. They worked so hard for many years. A couple months before the end of their career, it's over."
Wood said his girls team could've contended for a league and Division II title this year and he is heartbroken that his seniors might not accomplish their goals this season.
When asked about his perspective of the pandemic, Wood said "it's kind of surreal."
"I wake up and go 'Is this really happening? Is this really going on?'
Vikings coach Mike Manley recalled that his team was supposed to compete in a tri-meet with Clovis East and Canyon, a school from Orange County, on March 13 - the same day that Kingsburg Joint Union High School District and other districts canceled schools.
Canyon dropped out of the meet before Clovis Unified School District canceled school and all athletic events.
"That's when I realized I think all competitions will be held off," Manley said. "I still had some hope that we would be able to practice during this time...That Friday at noon is when it ultimately hit me that we were not going to have any type of activities."
The Kingsburg boys swimming team was aiming for its eighth straight Section title and senior Wyatt Ward was seeking his second consecutive appearance at the CIF State meet.
Selma High School was scheduled to host the CSL diving finals on May 1 and were expected to hold the league swimming finals the next day. It's uncertain if those events will take place if the school year continues.
"It's not so much that they're going to miss out on their last chances to swim, it's that senior year being a part of a team," Manley said. "It's fun, it's exciting and it builds leadership and builds those relationships that last an entire lifetime. This is just something that puts a complete hold on that. I'm pretty disappointed that they're going to miss out on those experiences."
As for the one thing the coaches are missing the most? It's seeing the kids at practice.
"I miss my kids," Wood said. "I miss seeing them. I've been so spoiled. Those kids give me everything."
"I miss seeing the faces, I miss talking with them," Manley said. "It's those relationships. I don't think you'll get many coaches out here that'll coach just for the sport. It is for the relationships that are built within that sport."
Be the first to know
Get local news delivered to your inbox!