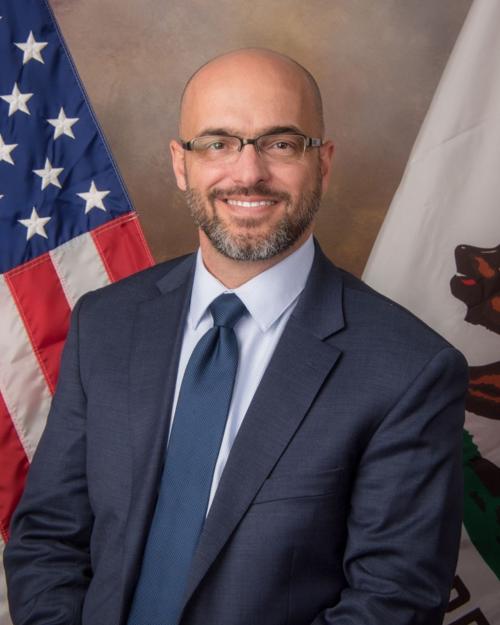 How did you get started in your career?
How I got started might not be as important as why I got started. I've always thought that if people want to affect positive change in the world, the key is to start on a small scale. Teachers are given that opportunity with their students every school day. The difference a teacher can make in the life of a student is astounding. That's why I started. How was a matter of college courses, paperwork, tests and all the work one has to do to become a teacher in California. I was in the classroom for eleven years and for most of that time, never considered becoming an administrator. I had some good mentors who showed me that being an administrator was all about helping others. At that point I was in.
What are your primary responsibilities at Kings County Office of Education?
Like everyone in education. This role is all about the students we serve. What that often looks like, from my viewpoint, is supporting my amazing colleagues here at KCOE, because the people I have the honor to work with are tasked with supporting the 13 independent districts in the county. I often say that having a well-run county office of education is the best thing we can do to support our districts — and we provide a lot of support. Our services range from business, payroll, and human resources to an educational services department with a vision of helping teaching improve classroom instruction. We operate special education programs for the most fragile students and early childhood education programs on behalf of the districts. We are also the internet service provider for all the public schools in the county.
Not many days that go by where I don't speak to one or more of our district superintendents. Most of us are in constant contact, this year more than ever. They are doing an amazing job leading our educational community through a very difficult time.
What would surprise people to know about your job?
People are surprised to find out that the county superintendent is not the "boss" of all the schools. As I mentioned, we have 13 independent school districts. Each is operated by an elected, five member board of trustees. Each board of trustees vests their power in a superintendent. Once again, our job is to support the schools in the work they do for the students and families they serve.
What do you like to do outside of work?
Travel with my family, mostly. There are amazing places in the world both near and far, and all it takes to see them is to go.
What's something most people don't know about you?
I've been a musician for most of my life. My sister, Lisa, took piano lessons for years and one day I just got on and started playing. I picked up the guitar at age 12. Now banjo and mandolin are in there. I can make some logical semblance of noise on most stringed and percussion instruments, but not on a drum set. I don't know how drummers do it. I have played in bands ever since that early age and still do. It's mostly rock-n-roll and country music. I used to have long hair. I miss it.
What is your favorite book or movie and why?
That is a trick question. Too many to name.
Random question generator: If you were in a witness protection program, what would be your new name and where would you go?
If pressed, I would adopt my mother's maiden name, Silveira, and camp out somewhere in Portugal, perhaps the island of Pico in the Azores, where my mother's side of the family is from.
Be the first to know
Get local news delivered to your inbox!