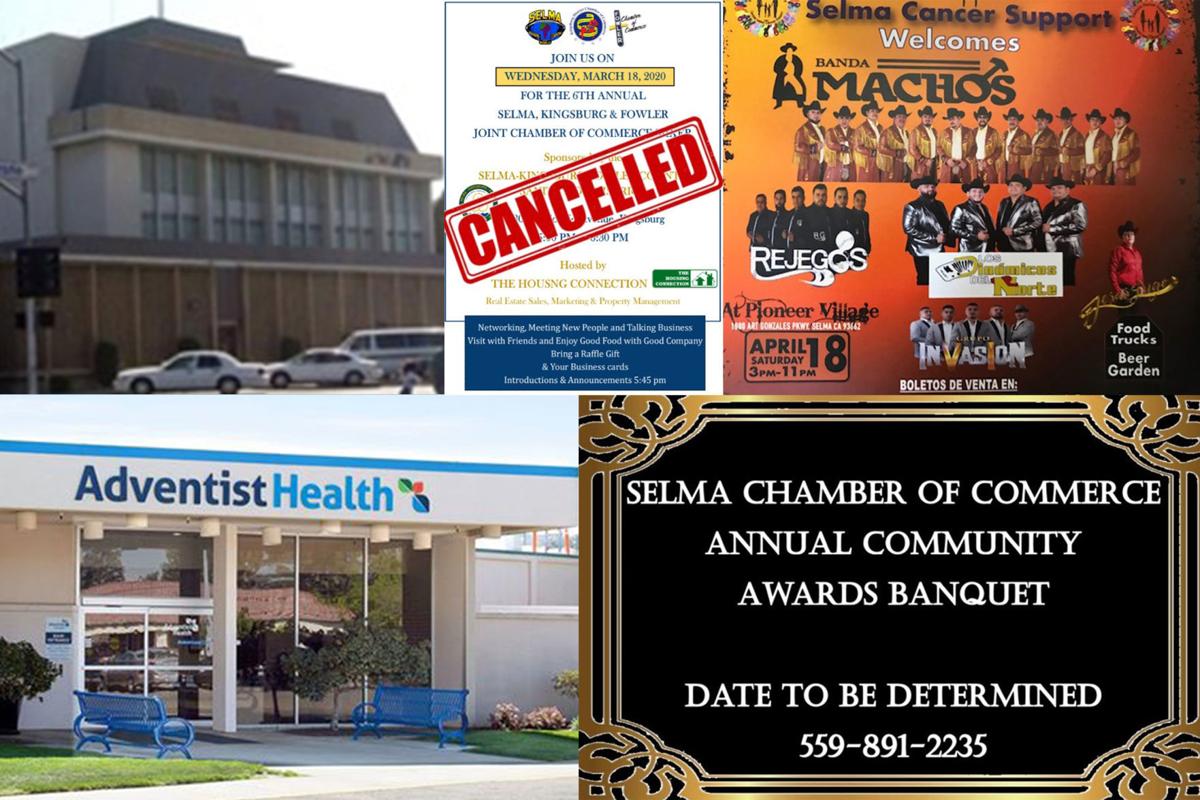 Schools, city offices, business and community functions are being postponed or cancelled altogether in order to comply with Gov. Gavin Newsom, President Donald Trump and the Centers for Disease Control's recommendations to combat the spread of the coronavirus-19. For further information on coronavirus / COVID-19, visit the Centers for Disease Control and Prevention at www.cdc.gov.
Here's a brief compilation of local closures:
Selma Unified School District
Superintendent Tanya Fisher: During this time of concern regarding the coronavirus, the decision to close our schools was a very difficult one to make. We know how important education is to our students, and are working on providing students with resources and materials so that they can continue to have opportunities to learn while they are home, and away from school. You will receive information about this from your child's school by Wednesday [March 18] of this week.
Meals will be provided through April 3 with students being able to pick up a bag lunch between 11 a.m. and 1 p.m. at the following schools:
Eric White Elementary
Roosevelt Elementary
Abraham Lincoln Middle School
Selma High School
Remember, schools are closed from March 16 through April 13. Thank you for keeping your children at home, or with your childcare provider. We appreciate your understanding as we work through this challenging time together.
Kingsburg Joint Union High School District
Superintendent Don Shoemaker: Following the declaration of a national emergency by our President today and a declaration of a state of emergency by Governor Newsom, KJUHSD has made the extremely difficult decision to close all schools for students through April 13. If conditions allow, school will resume on April 14. We are optimistic that we will resume classroom instruction after spring break, but we will continue to evaluate what is best for our kids and community.
All school activities are also canceled through April 13. This includes athletic practices, games, concerts, plays and the like.
I understand that it is tempting to treat this closure as an extended spring break, but I would encourage all families to stay in the routine of doing classwork while at home. Additionally, I would encourage all families to practice social distancing and to avoid large crowds and public areas at the recommendation of state and county health officials to prevent the spread of the virus.
Grab-n-go lunches will be served from noon to 1 p.m. Monday through Friday in the snack bar window at Kingsburg High. Children 18 and younger are eligible and must be present to receive the meal. For details, contact Celia Garcia, 419-6437 or 896-6020.
Kingsburg Elementary Charter School District
Superintendent Wesley Sever: The KECSD Governing Board has made the extremely difficult decision to close schools district-wide effective immediately to address concerns over the spread of COVID-19. If conditions allow, school will resume on April 14. We are optimistic that we will resume classroom instruction after spring break, but we will continue to evaluate what is best for our students and community.
Breakfast and lunch will be provided to anyone under 18 years of age beginning March 16 and ending April 3. Meals will be available for pickup at the Lincoln School Cafeteria, 1900 Mariposa St., from 11 a.m. to 1 p.m., Monday - Friday. The child must be present. We will provide both breakfast and lunch at the same time. Meals will be provided through April 3. There are no costs for this.
Teachers have put together classwork for students to continue their learning at home. More information will be communicated to families in the coming days on how the classwork will be distributed.
Outside organizations that use our school facilities will be notified that the district is unable to accommodate their Facilities Use Request during this closure. All school activities are postponed until further notice and include but are not limited to:
Athletic competitions, tournaments, and practices
All field trips including camps
Music events, assemblies, open houses, dances, and award ceremonies
Large parent and community gatherings
Public health officials are encouraging social distancing to control the spread of the virus. It is strongly recommended that families stay home during this closure as much as possible and do not gather in public places. The safety of the students and staff in our district will always be our priority. Thank you for your continued support.
Kingsburg High School Music Boosters
CMEA has made the decision to cancel all remaining festivals for the year. All of our lunch rehearsals for this week and next week are cancelled. Our Annual Music Boosters All-You-Can Eat Crab Dinner has been cancelled. This comes as a result of the concerns over the coronavirus. The South Valley Winter Arts Association has cancelled all remaining events for this season, including championships.
Adventist Health Selma
New Temporary Visitor Policy: For the safety of our patients, Adventist Health Selma will only allow one visitor per patient. Please be prepared for staff to ask you about your health status and recent travel history. Thank you for your help in protecting our patients and teams.
Nueva Politíca De Visitantes Temporal: Para la seguridad de nuestros pacientes, Adventist Health Selma solo permitirá UN visitante por paciente. Por favor esté preparado para que el personal le pregunte sobre su estado de salud y su historial de viajes reciente. Gracias por su ayuda en la protección de nuestros pacientes y equipos.
California State University, Fresno
President Joseph I. Castro: Dear Campus Community, we are temporarily suspending in-person, on-campus classes, effective Monday, March 16, in order to transition to virtual instruction next week. This includes classes offered at our Visalia campus. To allow our faculty to make final preparations for virtual delivery of instruction, face-to-face classes are canceled from Monday, March 16, through Thursday, March 19. The campus will remain open. Virtual instruction will begin on Friday, March 20.
Tulare County Sheriff's Detention Facilities
Sheriff Boudreaux: The decision was made to prevent the spread of the virus. The Tulare County Sheriff's Office does not have any reported cases of the COVID-19 virus in its jails. This is strictly a precautionary measure. Visitors may schedule an appointment through our internet video visitation program at- http://bit.ly/2QCyY35. We apologize for this temporary inconvenience.
Fresno County Jails
Fresno County Sheriff Margaret Mims: Effectively immediately, all in-person and video conferencing visits at the three Fresno County Jail facilities in downtown Fresno are cancelled. There is no timetable for when these temporary restrictions will be lifted. Sheriff Mims made this precautionary decision at the recommendation of the Board of State and Community Corrections. The BSCC has recommended all local adult detention facilities cancel visitation rights due to concerns over the spread of the Coronavirus disease or COVID-19.
The suspension of visitations to secure areas of the jails will apply to the general public, program officials, religious groups and tour groups. Legal visits will not be impacted; inmates will still be allowed to meet in person with their attorneys.
The jail lobbies will remain open for people to conduct day to day business such as access to TouchPay kiosks, property collection, Live Scan services, etc. During the temporary suspension, inmates will have the ability to make telephone calls 24 hours a day. Inmates are still able to receive mail. Send mail to the following address: Fresno County Jail Attn: Inmate name Jail ID # or Booking # PO Box 872 Fresno, CA 93712. For any updates on changes to the visitation schedule, check the Fresno County Sheriff's Office website, www.fresnosheriff.org.
Hanford Sentinel – Enterprise Recorder
Editor Chris Aguirre: The newspapers will continue to operate and provide news and advertising to our customers, however, effective March 17, offices will be unavailable to the public for the next four weeks. We are doing this out of an abundance of caution and appreciate your understanding.
Here is our staff contact information:
Concerned about COVID-19?
Sign up now to get the most recent coronavirus headlines and other important local and national news sent to your email inbox daily.