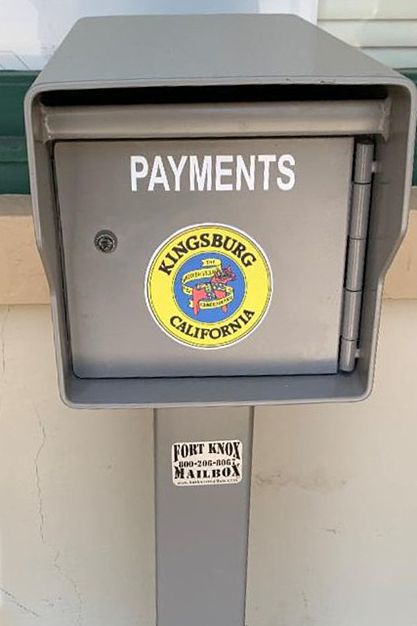 Input needed on biking, walking safety plan for grant funding
KINGSBURG – Kingsburg's workshop on its Active Transportation Program is 6-8 p.m. July 8. Residents are asked to chime in to help make the community a safer place to walk and ride bicycles. The City is applying for an ATP grant in September and the public's input is needed in the process.
The effort is to secure funds to make it safer for children and parents to walk or ride their bike to and from local schools and the greater community.
To sign up for the meeting, go to https://us02web.zoom.us/meeting/register/tZUvduytqTgrH9UIKiCjN2iSIQVHzbZdNuu_
Utility payment drop box installed
KINGSBURG – A secure drop box has been installed outside of Kingsburg City Hall for residents to drop off utility payments in a more safe, secure and convenient manner.
Residents may utilize this drop box at all hours.
Kingsburg cleanup is July 9-11
KINGSBURG – A three-day clean-up event starts at 7 a.m. July 9 and goes until 2:30 p.m. each day of July 9-11 at Mid Valley Disposal Yard, 1535 Avenue 392. The event is free for Kingsburg City residents only. Bring proof of residency such as a driver's license or city utility bill.
While most items are accepted, some items such as oil, paints and pesticides cannot be taken.
Accepted items will include:
Green waste
Tree limbs cut into four-foot lengths
Leaves and Lawn Clippings
Clean wood (No oil, paint or nails)
Metal
Clean auto parts
Scrap metal
Miscellaneous
Mattresses and Furniture
Household Trash
Appliances
Refrigerators
Washers/Dryers/Stoves
Dishwashers
E-waste (Possible additional charge)
Computer Screens
Televisions
Accepted with an extra charge:
Car tires $5 each
Truck tires $15 each
Other electronic waste $5
Prescription drugs and used sharps may be disposed of any time at the Kingsburg Fire Department. Call 897-5821 for more information. Household Hazardous Waste is banned from landfills and is not allowed in the trash. Fresno County now has a permanent facility for HHW call 600-4259 or e-mail fresnohhwfacility@gmail.com for more information.
For more details, contact Mid Valley Disposal at 897-5217 or City Hall, 897-5821.
Kingsburg City Council meets next July 15
KINGSBURG – The next scheduled Kingsburg Council Meeting is 6 p.m. July 15. See agendas for the meetings online at http://cityofkingsburg-ca.gov/AgendaCenter.
Be the first to know
Get local news delivered to your inbox!