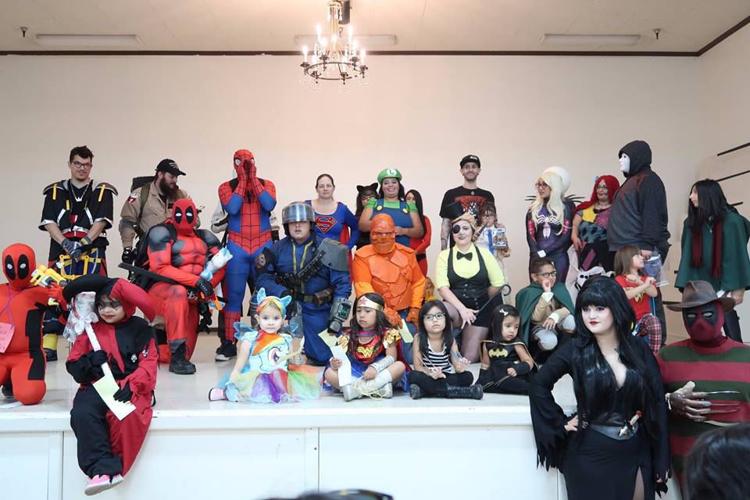 The Hanford-Visalia Comic is designed for kids, no matter what their age.
"When we're kids, we all have a little geek and nerd in us and life kind of hardens some people up. But I think there's still a kid in everyone. Some people keep that in them and those are the people who come out to these events," says event promoter and Ohana Comic Con co-founder Tom "Ziggy" Star.
Star's first convention was in February of last year and, along with his crew of six other family members, he has put together 16 events around the Central Valley and Southern California since. Over 30 more are in the works.
Star's plan is to hit cities and towns that don't have regular pop culture conventions, which is what brings the show to the Kings County Fairgrounds on Saturday, Feb. 3.
"Hanford has the great fairgrounds and they've been nothing but nice over there," Star says. "The staff has been nothing but helpful."
Comic cons are a way for fans of pop culture to meet up and celebrate whatever fandom they belong to, whether they be fans of "Dragon Ball Z," "The Avengers" or "Harry Potter."
Star says there's no one type of fan that attends the comic cons and the crowds seem to be a mix of everything.
"There's the anime people, the sci-fi people, movie fans, Disney fans, it's a big cross-section," he says. "And there are always those hard-core collectors."
In addition to the celebration and socializing, there's also the matter of collecting and fans are ravenous spenders when it comes to finding that coveted copy of "Hulk" #368 or rare Frodo statuette.
Five Central Valley comic book and collectible shops will have vendor booths at the event including Visalia-based stores GameQore and Collector's Choice as well as DJ's Collectible Shoppe, 214 N. Irwin St. in Hanford.
"Cons make for good memories," DJ's owner Jason Weihert said. "I know a lot of our customers are going, so hopefully it's a success. Cons only work if [fans] want us there."
The DJ's booth will be selling vintage comics during the event for $1 each. Weihert plans on bringing around 2,000 comics for fans to sift through.
In addition to comics, fans can expect vendors to sell Legos, antique toys, sports and entertainment memorabilia and the year's most coveted collector's items: Funko Pop! Vinyls.
The comic con's main attraction may very well be the cosplay contest, where costumed fans show off their home-made outfits inspired by their favorite fictional characters.
It's nearly guaranteed that every comic con will have at least one Harley Quinn and Deadpool.
Star says that at last week's con in Fresno, around 200 costumed would-be superheroes, wizards and aliens entered the contest.
Winners will receive gift certificates to spend with the vendor of their choice at the con.  About $200 in prizes will be awarded. Costumes must be family-friendly, so leave those Vampira costumes at home.
Not content to simply watch the fun while selling comics, Weihert says he'll be cosplaying as well, but he hasn't decided on a costume yet. He's torn between something "Star Wars"-related or everyone's favorite hockey-masked horror icon Jason Voorhees from the "Friday the 13th" movies.
Weihert attended a screening of "Friday the 13th" at the Hanford Fox Theater last year in costume to take photos with fans and will do so again on Friday, April 30, when the Fox screens the superior sequel.
"It's fun to [wear the Jason costume] because you don't see serial killers walking around in Hanford too often," he says.
In addition to vendors, booths will also be set up for genre celebrities to sell their art, take photos and sign autographs.
Guests include Robert Mukes, who played one of the murderous family members in Rob Zombie's "House of 1,000 Corpses;" Michael S. Rodriguez, Fresno-based director of the upcoming horror film "Lake of Shadows: The Legend of Avocado Lake;" stuntman Nick Palma, who played Michaelango in "Teenage Mutant Ninja Turtles II: The Secret of the Ooze;" and cosplayers CreepsCreations.
The idea for an affordable, family-friendly comic-con came to him a couple of years ago. An outing to a regional comic-con with his 15 grandchildren set him back nearly $300. And that was just the price of admission.
"I thought, 'there has to be something better.' I wanted to share with [my grandchildren] my love of 'Star Wars' and 'Star Trek' because I'm a geek at heart," Star said.
His daughter suggested that he take his experience promoting baseball card conventions, which he had done for years, and apply it to comic cons with the mission statement that admission fees would be low and children 12 and under would be free.