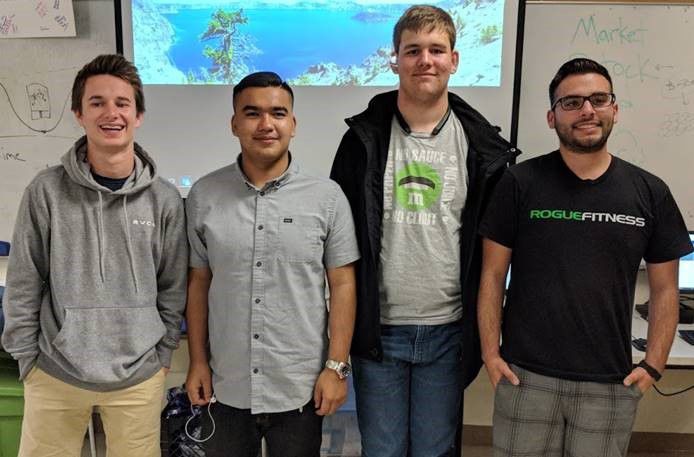 LEMOORE — A team of Lemoore High School students came out on top in a nationwide virtual team challenge where they used their real-world skills and business knowledge to help their virtual employers.
The contest, sponsored by Deloitte—one of the largest accounting firms in the world—tasks teams of four students to compete as a team to make decisions involving business, environment, ethics and negotiation.
The virtual team challenge is played each year in the fall and the spring by thousands of high school students throughout the United States.
"This is a huge honor in a brand new competition for LHS students," said Scott Buller, business and technology teacher at LHS and the winning team's adviser.
The students on the winning team, named 7-SharkTank, were Michael Ashford, Riley Jacobs, Isaiah Johnston and Carlos Medina.
The students who participated in the project are enrolled in a special dual enrollment class called Introduction to Business that's offered by West Hills College Lemoore. Students in the class get college credit when they complete the course.
Buller, who learned about the challenge at a teaching conference, said this is the first year any of his students have participated in this challenge.
Students participated for three weeks in an online game-like simulation where they played the role of employees in a fictitious professional organization hired by the fictional town of "New City" to organize the clean-up of an oil spill and raise money to support that effort.
Buller said students were required to use their business knowledge to interview sub-contractors who were best qualified for various jobs. He said they were tested in their business knowledge and ethics throughout the simulation.
"To succeed, they had to research companies, understand the criteria for success, interview candidates and negotiate the best price for all the jobs," Buller said. "Based on their decision-making, each individual made a profit margin on each transaction throughout the simulation."
As part of the simulation, Buller said the students earned a profit margin of $218,680 and the first place spot as a result. The three teams that earned the most virtual money for New City to clean up an oil spill were the winners.
Buller said communication is a huge part of the challenge because each team member had a different role and goes through different experiences in the simulation, so it's the members' responsibilities to talk to their other team members about what they learned.
"What I appreciate most about this type of learning is that students had to learn and practice real-world business skills such as communication, critical thinking and creativity to succeed," Buller said.
Johnston, a senior at LHS, said the business class prepared them well for the challenges, especially knowing about business ethics.
Johnston said winning was not even on the students' minds; they just wanted to complete the challenge to get a good grade in class.
"It was a shock for all of us," Johnston said of the team learning about the standings.
Although some days were more difficult than others, Johnston said his team did great and he really enjoyed the challenge.
"I'm glad I did it," Johnston said.
As a result of this win, each student gets a $150 gift card and the local United Way chapter will receive a $500 donation from Deloitte. Buller said Deloitte will also send a representative to the school to recognize the students.
An LHS team also finished in fourth place with team members Josue Alvizo, Evan Berna, Jacob Chieze, and Paige Clarke. In fact, over a dozen teams from LHS competed and four of those teams were in the top 20 teams out of the over 400 total teams that competed in the challenge.
Buller said he is proud of all the students who participated and wanted to thank LHS Principal Rodney Brumit and Lemoore Union High School District Superintendent Debbie Muro for being open to the dual enrollment class.