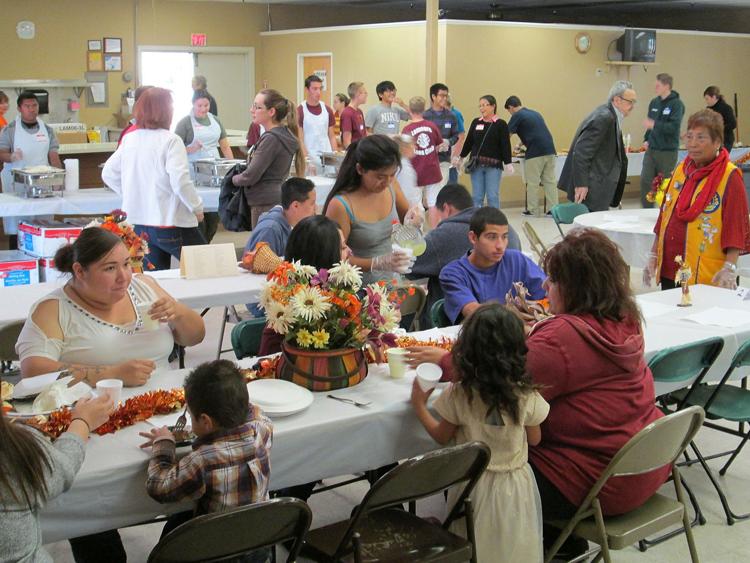 LEMOORE — Seventeen years ago a group of volunteers came together to serve a Thanksgiving meal to those who had no place to go, and the tradition continues to show no sign of slowing down.
The Kendall family, including Walt Kendall, his wife, Patricia Kendall, and daughter Sharon Farrar nee Kendall, have been the driving force behind the free Thanksgiving Day Community Dinner that serves thousands in Kings County. This will be the first community dinner without Patricia, who died in February
Kendall said it all started when his daughter volunteered at the Poverello House in Fresno and suggested to her parents that they serve Thanksgiving meals like the Poverello House does.
Kendall said the family started making calls to friends to volunteer and the word about the meal began to spread.
About 150 meals were served at the very first dinner, Kendall said, and it has grown ever since then and is now a certified nonprofit. He expects about 2,000 meals to be served on Thursday.
The meal is provided to those who want a place to go to enjoy a traditional Thanksgiving dinner on Thanksgiving Day. It is open to the public, as well as to seniors and military personnel and their families.
"This is a good way to give to those without a place to go," Kendall said.
In the first couple years, the dinner was served on site and to-go, but Kendall said home deliveries were started in 2003. He said now home deliveries and takeout meals make up the largest portion of what is served.
Takeout meals and home deliveries in the Hanford/Lemoore area are available for anyone who cannot make it to the dinner's location, which is the Lemoore Senior Citizens Center located at 789 18th Ave., Lemoore.
He said there were 700 takeout meals and 500 deliveries last year, and he expects only about 300 meals to be served on site this year. He also said he expects around 300 meals be delivered to Avenal and 150 meals to be delivered to Kettleman City.
Even after 16 years, Kendall said serving the dinner is still a learning process and the committee of volunteers gets together after the meal and discuss what worked and what didn't work so they can improve for the next year.
The organization was the Lemoore Chamber of Commerce's Organization of the Year in 2012.
Kendall said around 100 people usually volunteer, including around 10 delivery drivers, and the group purchases and prepares all the food, which includes all the Thanksgiving staples like turkey, mashed potatoes and gravy, dinner rolls, green beans and pumpkin pie.
Kendall said they are always in need of volunteers and welcome anyone who wants to help out. Volunteers don't have to be there the whole day and can just work part of the day so they can spend time with their families as well.
"Sometimes the whole family will come and work," Kendall said. "It's a good experience for the kids."
An endeavor like this is no easy feat and Kendall said the dinner has relied on donations from individuals, churches, businesses and organizations for the roughly $12,000 cost. He said the Tachi-Yokut Tribe has provided about $5,000-worth of food every year for many years.
"We couldn't do what we do without donations," Kendall said.
Kendall said he and his family and all the volunteers are proud of what they do and especially proud that the community has continued to support them over the years.
He said people who receive the meals are always grateful and he is not surprised so many people are willing to help others during the holiday.
"It's a lot of work, but you always feel good after," Kendall said.